Zambia's President, Opposition Leader to Hold Talks, Mediator Says
By
Hakainde Hichilema has been in prison on treason charges

Both leaders agree to resolving political differences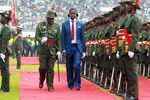 Zambian President Edgar Lungu and jailed opposition leader Hakainde Hichilema have agreed to hold talks to resolve their political differences, a Commonwealth official said.
The discussions will be facilitated by the office of the Commonwealth, the intergovernmental organization's secretary-general, Patricia Scotland, told reporters Wednesday in Zambia's capital, Lusaka.
The country's main opposition leader has been in prison for more than 100 days awaiting trial on treason charges and refuses to accept Lungu as the winner of last year's presidential elections. Lungu invoked emergency measures last month in response to a fire at a market the government has blamed on opposition supporters. 
Both leaders "have agreed to a process of dialogue" to draw up a roadmap of reforms ahead of the next election in 2021, Scotland said. Lungu and Hichilema have also agreed "not to look backward, but in order to promote peace, stability and the public good, to look forward to the next election, to give dialogue, peace and harmony a chance," she said.
Zambia has seen heightened political tensions since last year's vote. Political uncertainty could delay a deal with the International Monetary Fund over economic aid, Fitch Ratings said last month.
— With assistance by Matthew Hill
Before it's here, it's on the Bloomberg Terminal.
LEARN MORE