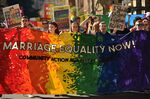 A majority of Australians, including Prime Minister Malcolm Turnbull, support changing the law to allow same-sex marriage. Yet while neighboring New Zealand and other English-speaking nations have legalized such unions, it remains a divisive political issue Down Under. With Turnbull's governing coalition at loggerheads and his authority in question, the government has held a nationwide postal vote on the matter. The result, which is non-binding, will be announced Nov. 15.
1. Isn't Australia famous for gay pride?

It is indeed. The largest city, Sydney, hosts one of the world's biggest Gay and Lesbian Mardi Gras parades and is known as the San Francisco of the Southern Hemisphere for its large gay community. But while the U.S., the U.K, Canada and New Zealand now allow same-sex unions, Australia remains a laggard.
2. So Aussies are opposed to marriage equality?
Far from it -- a poll last year showed 64 percent of respondents backed changing the law, with only 26 percent against. Major companies such as Commonwealth Bank of Australia and Qantas Airways Ltd. have also been vocal in their support. And the number of same-sex couples is rising, about 46,800 in the 2016 census, up 39 percent from 2011.
3. Why didn't lawmakers just legislate?
Because the ruling center-right Liberal Party is split between social progressives like Turnbull and conservatives like his predecessor, Tony Abbott. When Turnbull seized the leadership two years ago, he needed to keep conservatives on-side so retained Abbott's policy on same-sex marriage: Allowing Australian voters to make the final decision through a mandatory public vote, known as a plebiscite. But that path was blocked in the Senate twice, so he had to find another way to break the deadlock.
4. What's Plan B?
A voluntary postal vote, conducted by the Australian Bureau of Statistics. Should the majority back same-sex unions, Turnbull says he will tell his lawmakers to support a marriage equality bill and the legislation could be approved by the end of the year.
5. So it's going the way of same-sex marriage?
If those opinion polls showing majority support prove correct. Although gay-rights lobbyists feared a public vote would unleash bigotry, those concerns mostly proved unwarranted. And while the idea of a postal vote -- costing taxpayers A$122 million ($93 million) and conducted by a bureau that was criticized over a problem-plagued national census last year -- was lambasted by some as being outdated in the internet era, 80 percent of eligible voters participated.
6. Will government conservatives vote for same-sex marriage?
We'll see. Should a pro-gay marriage result be returned, Turnbull can't compel his lawmakers to respect the result -- some have indicated they won't, unless there are protections within the legislation for people who say they object on religious grounds. For example, those lawmakers want the law changed so that someone who caters for a gay marriage can refuse to make the wedding cake without facing legal recourse for discrimination. Turnbull has predicted those amendments will fail.
7. What does this mean for Turnbull and for Australia?
Since becoming prime minister, Turnbull, 63, has disappointed many Australians by not taking a more progressive approach on issues he'd previously championed, including climate change and Australia becoming a republic. His leadership and political judgment have been questioned since he triggered an early election last year, which he subsequently won by a single seat -- a margin now erased after Deputy Prime Minister Barnaby Joyce was ruled ineligible for parliament in October. Further conflict in the party over marriage equality has the potential to undermine his authority and some question whether he can survive to lead the government to elections due in 2019. That points to a possible return to the political chaos that resulted in Australia churning through five prime ministers in the past decade, bringing with it crippling policy inertia.
The Reference Shelf



Before it's here, it's on the Bloomberg Terminal.
LEARN MORE