U.S. Imposes Financial Sanctions on Eight More Venezuelans
By and
Trump administration seeks coordinated international action

Latest move stops short of a restriction on oil imports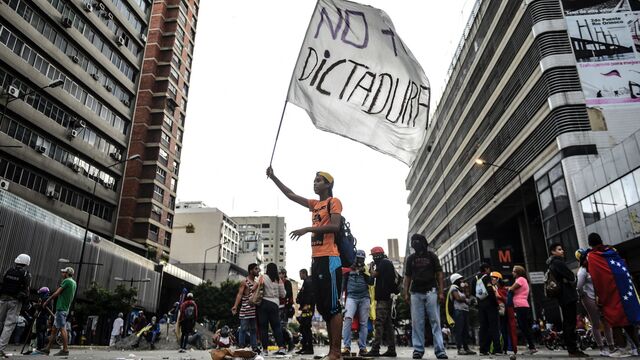 The Trump administration expanded U.S. sanctions against Venezuela by freezing assets of eight Venezuelans as it seeks to raise pressure on the government of President Nicolas Maduro.
A list released by the U.S. Treasury Department on Wednesday included Adan Chavez, brother of the late president Hugo Chavez, and Hermann Escarra, a constitutional adviser to Maduro.
Seven of those sanctioned are current or former Venezuelan government officials, the Treasury Department said in a statement. The eighth Venezuelan "participated in actions or policies that undermine democratic processes or institutions in Venezuela," according to the statement.
The action came as the U.S. sought a coordinated international response in imposing penalties on the Maduro regime for undermining democracy in the South American country. The U.S. is pressing to enlist European and South American countries -- including neighboring Colombia -- to match the sanctions.
At least 11 South American countries as well as Canada met in Lima Tuesday to discuss the implications of Venezuela's newly convened assembly charged with rewriting the constitution. Peru's President Pedro Pablo Kuczynski has led calls for a regional response to the deteriorating economic and humanitarian situation.
The latest U.S. sanctions stopped short of a more significant penalty that has been under consideration: banning imports of Venezuelan oil, which accounts for 95 percent of the country's foreign-currency earnings. Venezuela, a founding member of OPEC, has the world's largest proven reserves and is South America's largest oil exporter. It also is the third-largest source of imported oil to the U.S.
Increasing Pressure
The expansion of the sanctions list is an effort to increase pressure on Maduro as he tries to consolidate power and pursue political enemies. The Trump administration took the unusual step of personally sanctioning a head of state when it froze any of Maduro's assets in the U.S. on July 31 after he proceeded with a vote on a new assembly that was a first step to revising the constitution. The U.S. previously sanctioned 13 people associated with the regime, including Simon Zerpa, vice president of finance at Petroleos de Venezuela, the state oil company.
The deepening political crisis and the threat of additional sanctions has worsened Venezuela's economic turmoil. Repsol SA pulled all foreign workers from its oil fields in Venezuela, while Chevron Corp. and Total SA have removed a small number of employees, according to people with knowledge of the companies. Norway's Statoil ASA has withdrawn its expatriate staff.
Maduro triggered the latest round of U.S. pressure by installing a constituent assembly charged with rewriting the constitution. The vote to elect the assembly was boycotted by the opposition, which controls the elected legislature, and marred by accusations of fraud. The assembly on Saturday removed the chief prosecutor Luisa Ortega Diaz, a critic of Maduro's regime, and vowed to rule for a maximum of two years.
Before it's here, it's on the Bloomberg Terminal.
LEARN MORE