Trump's North Korea Remark Highlights Unease Among Asia Allies
By and
Concerns are growing over long-term dependence on U.S.

South Korea, Japan vulnerable in event of North Korea strike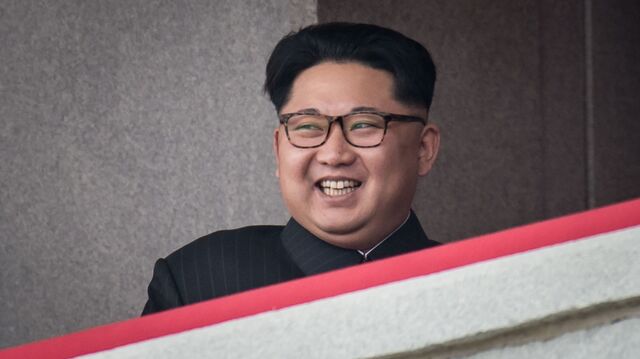 Follow @bpolitics for all the latest news, and sign up for our daily Balance of Power newsletter.
The two countries most at risk from an attack on North Korea largely brushed off President Donald Trump's threat to unleash "fire and fury," even as concerns grow about over-relying on the U.S. for security.
Yonhap News Agency cited an unidentified official at South Korea's presidential office saying there's no "imminent crisis." A senior Japanese official, who asked not to be identified to discuss internal deliberations, said there was no mobilization for a military strike and very few people in the government were taking Trump's comments seriously.
The subdued reaction in part reflects a long history of dealing with threats from North Korea. Both U.S. allies have long been in the firing line of Kim Jong Un and have grown accustomed to the regime's threats of death and destruction.
And while U.S. Secretary of State Rex Tillerson played down the threat of an imminent strike, saying "Americans should sleep well at night," Trump's comments highlight a growing concern over the reliability of the U.S. as a strategic partner. Trump has said South Korea and Japan should pay more to host American troops and sought to renegotiate trade terms.
Collateral Damage
"The prioritization of the American homeland and the security of the American homeland is upsetting a lot of understood truths: The idea that the U.S. would defend Seoul as if it were Los Angeles," said John Park, director of the Korea Working Group at Harvard Kennedy School. "Now the view is, in order to protect the American homeland, collateral damage over there is acceptable."
Last month, General Joseph Dunford, the chairman of the Joints Chiefs of Staff, said it was "unimaginable" to allow North Korea to have the capability to strike a U.S. city with a nuclear weapon. Senator Lindsey Graham, a South Carolina Republican, told NBC News last week Trump told him that "if thousands die, they're going to die over there."
The prospect of conflict in the region rattled investors on Wednesday. South Korea's benchmark Kospi fell 1.1 percent to the lowest since June 21, while the won fell the most in three weeks. Japan's Topix index had the biggest slide in almost three months.
Avoiding Conflict
"It's not that I can't understand the serious sense of crisis that brought Trump to say this," said Takeshi Iwaya, a lawmaker with Japan's ruling Liberal Democratic Party. "But we should do everything we can to avoid the military option. The United Nations Security Council has just approved new sanctions. So what we should do is increase pressure as much as we can to encourage them to the negotiating table."
South Korean President Moon Jae-in has shifted away from initial attempts to start a dialogue with Kim, particularly after North Korea tested two intercontinental ballistic missiles within a matter of weeks. He has called for talks with the U.S. to consider the deployment of more Thaad missile-defense launchers to South Korea, a move he had previously put on hold.
Repeated provocations by North Korea have fueled calls for South Korea to arm itself with nuclear weapons. Critics argue that would trigger an arms race, including prompting Japan to seek a nuclear deterrent, elevating tensions further in a region still reeling from atrocities committed during World War II.
Lee Jong-myeong, a lawmaker with the main opposition Liberty Korea Party and a former army officer, said the number of voices calling for South Korea to obtain nuclear weapons has grown in recent years. Still, it remains too unpopular for the party to make an official proposal.
'Catastrophic Consequences'
"North Korea may be threatening the U.S. with its long-range missiles, but it's essentially blackmailing us by putting pressure on the U.S.," Lee said by phone. "We have to be ready."
Japan's prime minister, Shinzo Abe, has used the nuclear threat to push for changes to his country's pacifist constitution. His new defense minister, Itsunori Onodera, is an advocate of Japan obtaining its own long-range strike capability, something the country has so far avoided.
"This has definitely reached a new level of threat," Onodera said of the reports that North Korea had achieved the capability of putting nuclear bombs on missiles, according to public broadcaster NHK. "We're not in a position to say accurately whether they have this capability already. But they either have it or they will do soon."
— With assistance by Sam Kim
Before it's here, it's on the Bloomberg Terminal.
LEARN MORE