Trump Goes With His Gut to Shake Up Strategy on North Korea
By and
President wants to get past 'failed' past approaches: adviser

Tillerson wasn't consulted in advance of Trump's comments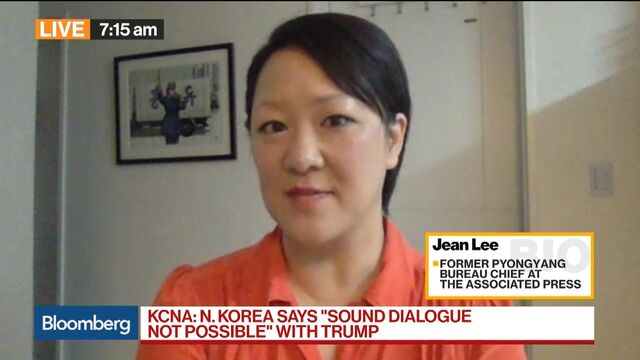 Follow @bpolitics for all the latest news, and sign up for our daily Balance of Power newsletter.
President Donald Trump is turning to one of the few non-military tools at his disposal to confront the escalating threats posed by North Korea: his instinct for verbal combat.
Frustrated with decades of unsuccessful U.S. efforts to rein in North Korea's nuclear weapons program, Trump fired back at the isolated regime with a bluntness that surprised both markets and governments, seeming to take his own Cabinet officers and aides by surprise. Even Secretary of State Rex Tillerson, in the middle of a tour of Southeast Asia to discuss North Korea with allies, wasn't consulted in advance, his spokeswoman said.
The tone of Trump's comments Tuesday -- promising "fire and fury" if North Korea keeps threatening the U.S. -- appeared to come right out of Kim Jong Un's playbook for over-the-top taunts. White House aides said the unsuccessful policies of previous administrations are forcing the president to re-think U.S. strategy.

"Across the board we've inherited a failed approach to a lot of foreign policy, foreign wars and just our approach to engagement with the world has to be completely rethought," Trump adviser Stephen Miller said Wednesday in a British radio interview. "That's what this president campaigned on, and that's what he's doing."
North Korea, not surprisingly, pushed back. The country's state-run media called Trump's comments "a load of nonsense" and said "only absolute force can work on him." The Thursday statement added that the North Korean military continues to "seriously examine" a plan to fire missiles targeted at the waters off Guam, where the U.S. has a military installation. South Korea on Thursday warned Pyongyang against more provocations.
Yet the shift in tone from Trump won some international support, with Matthew Rycroft, the U.K.'s ambassador to the United Nations, saying it was just one component of a broader effort to pressure the North Korean regime.
'Very Clear'
"The U.S. has been very clear about its position," Rycroft told reporters in New York on Wednesday. "We call on the Pyongyang regime to listen to that clarity, to act on that clarity and halt its nuclear program, halt its intercontinental ballistic missile program."

Trump adviser Miller suggested one intended audience for Trump's blunt rhetoric may have been China, which the president has repeatedly demanded should do more to rein in its neighbor and trading partner.
"One of the most important things that you've seen is the president being so clear so publicly about China's responsibilities in this regard," Miller said. "But the frankness of the president's comments, the straightforwardness of his comments broadcast publicly about his expectations in that area, again, represent a new approach to how we're handling the issue."
Mattis on Options

Defense Secretary Jim Mattis, traveling to the U.S. west coast on Wednesday, echoed Trump's threats, saying "of course" military options are available to use against Kim's regime, which earlier threatened to make the U.S. "pay dearly" for its actions.
"The DPRK should cease any consideration of actions that would lead to the end of its regime and the destruction of its people," Mattis said in a statement, using an acronym for North Korea. "While our State Department is making every effort to resolve this global threat through diplomatic means, it must be noted that the combined allied militaries now possess the most precise, rehearsed and robust defensive and offensive capabilities on Earth."
Asked whether Trump's lack of consultation with key national security aides suggested division in the administration, State Department spokeswoman Heather Nauert said it didn't.
"The United States is on the same page," Nauert said. "Whether it's the White House, the State Department, the Department of Defense, we are speaking with one voice." Referring to new UN sanctions targeting North Korean exports, Nauert added, "the world is in fact speaking with one voice."
Yet Trump's choice of words -- most previous presidents sought to ignore Kim's verbal threats -- generated more criticism than praise from foreign policy experts in both parties. They said that he had moved the U.S. closer to a nuclear conflict, with no clear plan on how to diffuse the situation. And it surprised many for coming so soon after he lavished praise on the UN Security Council for approving fresh sanctions on the isolated regime over the weekend.
'Fiery Belligerence'
"The erratic and fiery belligerence of his statements and tweets do little to defuse the situation and threaten to make a bad situation worse," Representative Adam Schiff, the top Democrat on the House Intelligence Committee, said on Wednesday. "He should let Secretaries Tillerson and Mattis, and UN Ambassador Haley do their jobs without taking actions that hamper their efforts."
Senator John McCain of Arizona, the Republican chairman of the Senate Armed Services Committee, said he wasn't sure Trump was ready to act on his words. McCain was one of the harshest critics of former President Barack Obama for failing to enforce his own "red line" against chemical weapons use by Syria's president in 2015.

"The escalation in the war of words between the two sides is concerning because it greatly increases the risk of miscalculation and potential conflict," when the administration should be finding ways to deescalate tensions, said Kingston Reif, director for disarmament and threat reduction policy for the Arms Control Association.
Some analysts said Trump compounded the issue by following up his criticism with a warning that in his first seven months he's already built a stronger and more powerful nuclear arsenal. That process, which was initiated by Obama, is expected to take as long as 30 years and cost $1 trillion. It's barely under way.
Read More: How Trump's Nuclear Arsenal Isn't Different Than Obama's
"The North Koreans are smart enough to realize that it could not have been achieved in the few months that he's been in office," said James Person, a North Korea analyst at the Wilson Center in Washington. "It's not going to get the North Koreans to think twice or cry uncle and return to the negotiating table. I don't think the North Koreans are taking it seriously."
— With assistance by Kambiz Foroohar, Jennifer Epstein, and Anthony Capaccio
Before it's here, it's on the Bloomberg Terminal.
LEARN MORE