Thai Billionaire Leads Four Firms With Top-20 Return Potential
By and
Charoen Pokphand Foods tipped to gain 28% within 12 months

7-Eleven operator CP All, Siam Makro set for consumer rebound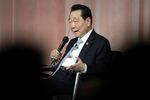 Investors looking for upside potential in Southeast Asia's emerging economies would do well to follow Thai billionaire Dhanin Chearavanont's companies. 
Four that are controlled by Dhanin and his family -- Charoen Pokphand Foods Pcl, CP All Pcl, Siam Makro Pcl and True Corp. -- are ranked by analysts in the region's top 20 in terms of return potential over the next 12 months. CP Foods, one of the world's biggest poultry, pork and seafood processors, is forecast to rally 28 percent within a year, the top projected gain based on consensus analyst price targets compiled by Bloomberg. CP All, which operates 7-Eleven and Lotus retail stores, is the fourth with 17.3 percent upside.
Siam Makro, a cash-and-carry retailer, will provide a 13 percent return within a year, according to the consensus. That ranked it 15th among the 80 biggest companies by market capitalization in Thailand, Indonesia, Philippines, Malaysia and Vietnam at the start of this week. By revenue, Siam Makro and CP All are not only both among Southeast Asia's biggest store operators, but also key sales outlets for CP-branded foods, including chicken, hot dogs, bacon, ready-to-cook meals and even pet products.

"CP Group has been implementing an impressive strategy with retail outlet expansion, enabling its revenue and earnings to be less volatile from fluctuations in food and meat prices," said Jitra Amornthum, head of research at Finansia Syrus Securities Co. "CP All, with its convenience store network, will continue to do well in most economic conditions as people still need to buy basic goods and necessities."
Thailand's economy is forecast to expand about 3.4 percent this year, compared with more than 5 percent in Indonesia and at least 6 percent in the Philippines and Vietnam. That laggard status has extended to equities, with the benchmark SET Index rising 2 percent this year versus about 24 percent by the MSCI Emerging Markets Index.
The family's empire, with Dhanin at the apex for five decades of closely held Charoen Pokphand Group, comprises a vast web of companies spanning giant poultry farms, convenience stores, property development, wireless services, cable television and animal feed. Dhanin, 78, has a personal net worth of $3.5 billion, according to the Bloomberg Billionaires Index, while Forbes puts the combined wealth of the "Brothers Chearavanont," which includes most relatives, at more than $20 billion.

True last year overtook Total Access Communication Pcl, a unit of Norway's Telenor ASA, as Thailand's second-largest mobile-phone operator, with a 26.7 percent subscriber share. The company began life in the early 1990s with the sole non-government license to offer land-line phone service in Bangkok, and morphed into a full-service telecom provider as pay-TV, cellular and Internet technologies came to Thailand. The downside has been the massive use of debt to fund expansion, leaving True in the red most years.
"Expenses and losses have been very high in the process of acquiring new customers and technology, but the company is now in a strong competitive position, especially in the mobile market," said Sasikorn Charoensuwan, head of research at Phillip Securities (Thailand) Pcl. "True has recently become one of our favorite stocks because of its subscriber growth and stockpiling of spectrum bandwidth."

Not everything the Chearavanonts touch turns to gold, especially outside of food and retail. By the mid-1990s, CP was involved in such unrelated activities as motorcycle manufacturing, hotels, brewing and gas stations, in both China and Thailand. When the empire -- much of it built on foreign loans -- began to falter because of the Asian Financial Crisis set off by Thailand's currency devaluation in 1997 -- dozens of ventures were scrapped, halted or sold off, including the brewery to Heineken NV.
While the CP Group is still best known for its food and retailing, its biggest investment came almost five years ago when it bought HSBC Holdings Plc's 15.6 percent stake in China's Ping An Insurance (Group) Co. for about $9.4 billion. The value of that stake is now worth almost double, based on recent trades in Hong Kong of Ping An shares.
Before it's here, it's on the Bloomberg Terminal.
LEARN MORE