Philippine Central Bank Chief's Debut Rate Call Draws Scrutiny
By
Markets looking for more signals on monetary, currency policy

New chief has moved away from some of predecessor's practices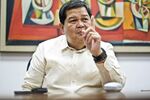 Nestor Espenilla, who took office as Philippine central bank chief last month, will be the center of attention Thursday.
Traders and analysts will be searching for clues in the first rate decision of the former deputy governor, who's already made changes to some of the central bank's policy communications. Bangko Sentral ng Pilipinas will hold the benchmark rate at 3 percent, according to all 17 economists surveyed by Bloomberg, as inflation is seen remaining near the midpoint of its target band.
"We'll see how clear the policy statement is in communicating signals and trajectory of the central bank," said Gundy Cahyadi, an economist at DBS Group Holdings Ltd. in Singapore. "It would be nice if the statement provides strong insight."
While Espenilla says policy will remain focused on taming consumer price gains, he's moved away from some practices of predecessor Amando Tetangco, such as releasing monthly inflation forecasts. Espenilla has also refused to comment on daily currency swings, saying he doesn't focus on the peso's day-to-day moves and instead looks at its trend.

"The whole industry was quite surprised when Governor Espenilla veered away from giving guidance on monthly inflation," Michael Enriquez, chief investment officer at Sun Life of Canada Philippines Inc. in Manila, said. "We're used to getting the views of his predecessor on policy and currency management."
Tetangco, who led the central bank for 12 years, perfected the use of moral suasion: the art of influencing market behavior with his words rather than direct intervention. He also built the central bank into one of Asia's most predictable, flagging his outlook months ahead and giving comments on moves by other monetary authorities like the Federal Reserve and Bank of Japan.
Caution might be warranted. Investors were caught by surprise when Malaysia's central bank Governor Muhammad Ibrahim cut Malaysia's interest rates after two months in office.
Click to read Malaysia's New Governor Makes His Mark in Surprise Rate Cut
Policy makers' guidance has been key in keeping currency shifts in check, Enriquez said. The band with which the peso trades daily against the dollar has widened in the past month, according to Bankers Association data compiled by Bloomberg.
Former Philippine central bank governors including Gabriel Singson, who served from 1993 to 1999, "were more involved in day-to-day management of foreign exchange," said Emilio Neri, an economist at Bank of the Philippine Islands in Manila. Espenilla seems like "he doesn't look at it on a day-to-day basis," Neri said.
Click here to read why Governor Espenilla describes himself as an 'intuitive manager'
While a departure from giving frequent statements may mean the central bank "can't guarantee a market that isn't volatile," Neri said "it gives traders a freer hand." It's also seen as giving Espenilla space to focus on his priorities like easing foreign exchange rules and cutting bank's required reserves.
"Moderation in headline inflation gives the Philippines some room to keep rates unchanged at this meeting," said Eugenia Victorino, an economist at Australia & New Zealand Banking Group Ltd. in Singapore.
Yet the nation's credit growth remains strong and inflation risk remains tilted to the upside, which could compel the central bank to raise the key rate as early as the fourth quarter, she said.
"There are a lot of major changes in policy communication. We would likely wait for more cues especially now that we're at a turning point," Sun Life's Enriquez said. "When will they raise rates? When will they cut the reserve requirement?"
— With assistance by Michael J Munoz
Before it's here, it's on the Bloomberg Terminal.
LEARN MORE