Gold Imports by India More Than Doubled in July
By and
Demand is expected to slow in second half on new tax: WGC

Shipments jumped from South Korea because of free-trade pact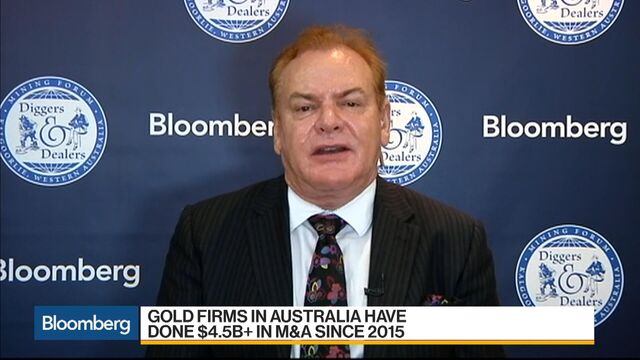 Start your day with what's moving markets in Asia. Sign up here to receive our newsletter.
Gold imports by India are said to have risen in July on arrival of some delayed shipments booked ahead of the implementation of a new national goods and services tax on the first of last month, according to a person familiar with the information.
Inbound purchases rose to 53.4 metric tons last month from 22 tons a year earlier, said the person, who didn't wish to be identified because the data isn't public. Sequentially, imports of the metal fell from 72 tons in June. Total imports during January to July jumped more than 2 1/2 times to 625.5 tons, according to data compiled by Bloomberg. Finance Ministry spokesman D.S. Malik declined to comment on the data.
While traders and dealers stocked up on gold inventories ahead of the levy of the national goods and services tax on fears of a higher duty, demand is expected to slow in the second half of 2017 as buyers take time to transition to the new regime, the World Gold Council said last week. Consumption is estimated to remain below a five-average of 850 tons and be in the range of 650 tons to 750 tons this year, it said.
"Such an increase in imports is not sustainable because the demand from the consumer side in the market is very slow and interest from the investment side has also dried up on low returns," said Bachhraj Bamalwa, a director with the All India Gems & Jewellery Trade Federation, referring to the July jump.
Shipments from South Korea climbed in the month as importers took advantage of the lower goods and services tax rate and a free-trade agreement between the two nations, the person said. Imports from most other countries are taxed at 10 percent versus zero for those from South Korea.
While this is the first time there has been a surge in imports from South Korea, importers have previously made use of free-trade treaties with countries such as Thailand and Indonesia in order to escape paying the import duty, said Bamalwa. This makes a strong case for the import tax to be lowered across the board, he said.
Before it's here, it's on the Bloomberg Terminal.
LEARN MORE