Deal of the Week: Will Sprint Be Left at the Altar?
SoftBank's Masayoshi Son wants a partner for Sprint
By , , and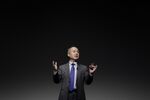 As The Bachelorette wraps up another season, a mating dance is developing in the telecommunications world. SoftBank is desperate to find a match for Sprint, the fourth-largest U.S. wireless company, of which it owns 84 percent. It has at least two potential suitors in mind: T-Mobile, the No. 3 U.S. wireless company, or Charter, the second-largest U.S. cable company. With T-Mobile, SoftBank founder and CEO Masayoshi Son would probably have to sell majority control of Sprint. Charter, on the other hand, would be a takeover target -- and would come with an enterprise value price tag of $200 billion or more. Will Sprint find a match, or will both partners turn down Son's money-losing asset? Bloomberg reporters Gerry Smith and Scott Moritz give host Alex Sherman their predictions.
Before it's here, it's on the Bloomberg Terminal.
LEARN MORE