BOE's Economic Assessment Offers Little Reason to Lift Key Rate
By
U.K. consumer spending weaker, Brexit weighing on investment

Agents' report also says inflation may be nearing its peak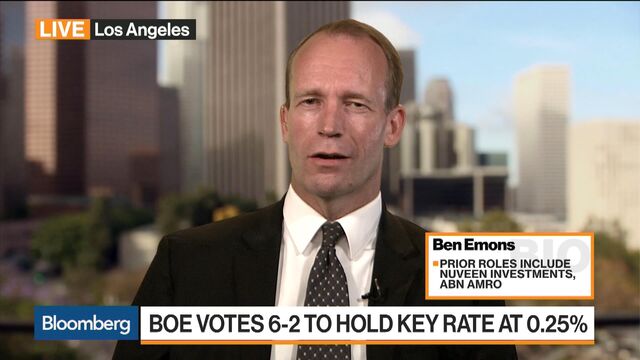 The Bank of England presented a fresh downbeat assessment of the U.K. economy, highlighting slower consumer spending and weak wage growth, reinforcing the view that an interest-rate increase is far from imminent.
A report by the BOE's regional agents published Wednesday said that the initial impact of the weaker pound on prices may be almost done, goods-price inflation is nearing its peak, and wage growth remains modest. While it said that manufacturing is benefiting from sterling's decline, uncertainty continues to weigh on companies' investment decisions.

The findings chime with the view of the economy presented by the BOE in last week's Inflation Report, when it downgraded its growth outlook and Governor Mark Carney issued a fresh warning about the effect of Brexit. Those comments outweighed the bank's view that the benchmark interest rate may need to rise faster than the market currently anticipates. It was held at a record-low 0.25 percent this month and economists see no change until 2019.
The latest BOE report also said that recruitment difficulties have edged higher, and are broadening, though this isn't yet filtering through to pay. Labor-cost growth remains "modest," with wage settlements clustered around 2 percent to 3 percent. Input-cost inflation remains heightened, though some manufacturers have reported that the initial pass-through of weaker sterling may be nearing completion.
Before it's here, it's on the Bloomberg Terminal.
LEARN MORE