Bob Iger Is a Poker Player and ESPN Online Is His Ace in the Hole
By and
Debut of internet service coincides with fee talks with cable

What airs online may hinge on how negotiations turn out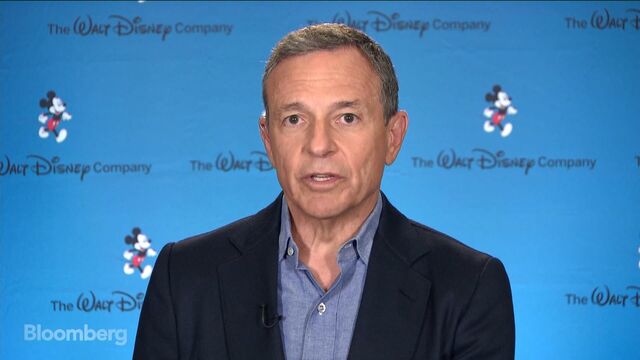 Bold talk aside, Walt Disney Co.'s Bob Iger isn't about to completely free ESPN fans from the cable bundle or the billions they pay annually for the world's most popular sports channel.
Disney's chief executive officer sounded like the best friend to anyone who's ever groused about a cable company when he announced plans for two direct-to-consumer video services, one from ESPN and another offering family fare like the upcoming film "Toy Story 4."
"It's been clear to us for a while the future of this industry will be forged by direct relationships between content creators and consumers," the 66-year-old CEO said Tuesday on a call with analysts.
But to understand Iger's moves, it's important to break apart the Moana part of the company's business -- its family films -- from the Monday Night Football part. Sports are the most lucrative part of the Disney media empire, delivering millions of viewers and giving the company leverage over pay-TV providers like Comcast and DirecTV.

When it comes to movies, Disney took a big step toward controlling its destiny by halting sales of new kids films to Netflix Inc. and offering them via a standalone streaming service in 2019. When it comes to Monday Night Football and the rest of ESPN, the Burbank, California-based giant remains in more of a defensive posture.
Disney has been talking about an ESPN-branded subscription service for a year now and the details the company provided Tuesday underscore just how cautious Iger is.
Disney announced plans for the service in August of 2016, when it bought a one-third stake in BamTech, a streaming technology provider spun off from Major League Baseball. A month later, Iger said the debut would be in 2017. On Tuesday, Disney pushed back the start date to sometime in 2018 and said again the new service won't carry games that air on ESPN's cable channels.
"We don't intend to migrate product off the primary linear services," Iger said on a call with analysts.
Surplus Content
Instead, Disney plans to offer the surplus content from the collective rights portfolios of ESPN and BamTech. The new service, Disney said, will air roughly 10,000 events a year, from Major League Baseball, the National Hockey League, Major League Soccer, Grand Slam tennis and college sports. It's a supplement to ESPN's cable channels, not a replacement. Sports viewers who want Monday Night Football, the NBA playoffs, and the College Football National Championship will still need to subscribe to a multichannel pay-TV package.
"All the content they have is stuck in the legacy cable business," said Rich Greenfield, an analyst at BTIG LLC known for his negative views on Disney.
Disney has good reason to protect ESPN's place in the cable bundle. Carriers pay an average of $7.21 per subscriber each month for the namesake channel, far and away the highest rate in the industry, according to S&P Global Inc.'s Kagan research. These fees are the lifeblood of the TV business these days. Last year, Disney's fee revenue totaled $12.3 billion, more than its advertising and program syndication sales combined.
While the number of subscribers has fallen in recent years, from a peak of more than 100 million in 2011 to 87 million currently, according to Nielsen, the primary channel alone still generates roughly $7.5 billion in annual revenue through these fees.
Contract Restraints
ESPN's contracts with pay-TV providers prevent it from selling much of the network's programming directly to consumers without some kind of penalty, Iger said.
The new ESPN streaming service, by Iger's reckoning, offers an escape hatch as the traditional pay-TV bundle loses viewers to online upstarts. This week, Disney reported a rare drop in quarterly sales and profit, the result of falling ad revenue at ESPN and a tough quarter for movies. On Wednesday, its shares dropped 3.9 percent, their biggest one-day decline since May 2016.
"It does give us optionality in the future," Iger said. "If we see changes in the distribution model, if we see either greater erosion or bigger opportunity to migrate the linear networks to a more direct-to-consumer proposition, we certainly have the technology to do it, and it can be done under relatively seamless circumstances."
This flexibility also offers Disney possible leverage in future negotiations with cable companies.
As Disney starts contract talks, beginning with Altice USA Inc. later this year, there are number of things it will be looking at. One is the price that distributors pay Disney for the channels. The other is the freedom distributors such as Comcast Corp. and AT&T have to offer customers TV packages that don't include costly Disney channels such as ESPN. Reducing the availability of those sports-free bundles will be a priority for Disney.
CBS Corp. executives have said that their $6-a-month online service will give them leverage to gain more favorable terms from the company's traditional TV distributors.
With his new online subscription services, Iger can potentially poach millions of customers from traditional TV. The company has said it will work with distributors like AT&T's DirecTV to help sell the new services, just as Time Warner Inc. works with Comcast to market its HBO Now online service to consumers who don't have a full pay-TV subscription.
"But it's a very slippery slope from there to a true, full-blown network substitute," Todd Juenger, an analyst with Sanford C. Bernstein & Co. in New York, wrote in a research note on Wednesday. "Disney could pull that switch any time."
The Comcasts of the world now face a tough decision, Juenger said:
"View this as an upsell partnership?" he wrote. "But watch your backs when Disney reaches the inevitable pivot point and decides to go around you."
— With assistance by Gerry Smith, and Lucas Shaw
Before it's here, it's on the Bloomberg Terminal.
LEARN MORE