Balance of Power: Trump's Korea Wargame Options Spell 'Insanity'
By and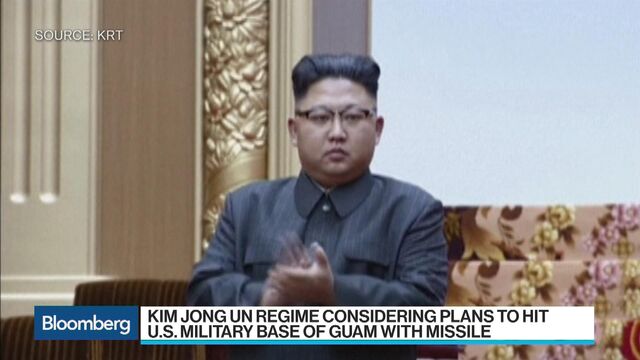 Donald Trump's vow to unleash "fire and fury" against North Korea sounded a lot like the rhetoric Kim Jong Un uses to threaten America. And it may prove to be just as empty.
Trump has no good military options in the face of mounting evidence that Kim will soon be able to hit Los Angeles or Denver with nuclear missiles.
As this Bloomberg QuickTake explains, North Korea's weapons and nuclear facilities are dispersed and hidden throughout the country's mountainous terrain. Failing to hit them all would leave Japan, South Korea and U.S. military bases vulnerable to attack -- with either conventional or nuclear warheads. And even if the U.S. managed to destroy everything, Seoul would still be vulnerable to North Korea's artillery.
With reports suggesting that Kim now has up to 60 nuclear warheads, millions could die.
"When you run any cost-benefit analysis, it's insanity," said John Delury, an assistant professor at Yonsei University in South Korea.
That leaves diplomacy. Most analysts say Kim won't give up his nukes at this point, and Trump, the self-professed dealmaker, should just strike a grand bargain with Pyongyang.
The question is whether that happens before a catastrophic miscalculation on either side.

Sign up to receive the Balance of Power newsletter in your inbox, and follow Bloomberg Politics on Twitter and Facebook for more.
Global Headlines
Globalization is alive and well | Follow the headlines and it seems the world is lurching into a protectionist disaster. A look at the data and recent policy decisions tells a very different story: global trade is poised for its best performance since 2011. What's more, as Tom Orlik and Justin Jimenez of Bloomberg Intelligence write, protectionist talk from the Trump administration hasn't translated into any significant policy so far.
Trump turns over Russia papers | The president has publicly derided the investigations into his ties with Russia as a "witch hunt." Yet privately, he's cooperating with Special Counsel Robert Mueller, even courting him. The Trump campaign has turned over about 20,000 pages of documents to the Senate Judiciary Committee. And Trump, via his attorney, has sent messages of "appreciation" to Mueller, USA Today reports.
Zuma clings on | Jacob Zuma narrowly defeated a parliamentary motion to oust him as South African president yesterday, but the real loser may be his own party, the ruling ANC. Analysts say Zuma's continued survival will simply deepen the political malaise in which the ANC finds itself and officials now face the prospect of a bitter fight for the party leadership in December. Zuma's term as president expires in 2019.

Kenya on edge | President Uhuru Kenyatta took a commanding lead in early election returns, while his main rival, Raila Odinga, protested that the results had been ``hacked.'' The capital, Nairobi, is a virtual ghost town as Kenyans brace for the sort of violence that's routinely marred votes in East Africa's economic powerhouse.
Putin defiant | Fresh from a bare-chested Siberian fishing expedition, President Vladimir Putin returned to flex Russia's political muscle. On a trip to the breakaway Georgian region of Abkhazia, Putin vowed to protect the Black Sea province's security and independence and drew protests from NATO in the process. Why now? For one, it's the 10-year anniversary of Russia's war with Georgia. Putin is also up for reelection in just over six months. So he might be getting his campaign face on.
Rouhani faces backlash from women | Iranian women who backed the re-election of President Hassan Rouhani are showering him with criticism after he backtracked on a campaign pledge to boost their representation in politics. He nominated men for 17 of 18 ministerial slots in his new cabinet, fueling speculation he wanted to avoid irking hardliners who oppose his goals of rebuilding the economy with western investment and promoting greater freedoms.
And finally... Al Franken, the comedian-turned-senator, has an interesting take on Trump. "I've never seen him laugh," the Saturday Night Live veteran told the New Yorker's "Politics and More" podcast. "I still haven't seen it happen." Franken said Trump's often dour demeanor reminds him of the sort of challenges you usually see in fairy tales. "If someone can get the king to laugh, they'll get half the fortune and the daughter or something," he said. Such an outcome seems unlikely in the real world.

Before it's here, it's on the Bloomberg Terminal.
LEARN MORE