Risen From Ashes, Fernandez Set to Rattle Argentine Market
By and
Strategists worried by timing of central bank Lebac auction

Ex-President Fernandez leads polls ahead of Aug. 13 primary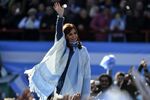 Call it the Cristina premium.
If you want to measure how much investors fear a political comeback by ex-President Cristina Fernandez de Kirchner, pay close attention to the Argentine central bank's Lebac auction on Tuesday.
That's when the bank will have to roll over a record amount of short-term notes known as Lebacs, just two days after primaries in which Fernandez is tipped to come out on top of President Mauricio Macri's candidate. A wider-than-expected lead could damp demand in Tuesday's $30 billion auction and send the peso tumbling. The congressional election is in October.

"I've got it marked in red in my diary," Juan Manuel Pazos, a research analyst at Puente Hnos SA, said of the Lebac auction. "If she wins by 5 points or more there's going to be an exit. No matter what rate they pay, investors will leave."
Fernandez's career seemed dead and buried after her chosen successor lost the presidential election in 2015 and corruption allegations against her government piled up. Years of currency controls, mounting trade barriers and an unresolved debt default from the 2001 financial crisis finally seemed to be behind Argentina.
How a Political Comeback Could Derail Argentina: QuickTake Q&A
Now, her name is back on the front pages, her supporters are rallying and markets are spooked. Her return to politics raises the specter that Macri's project to open up the economy after a dozen years of isolationism could be derailed.
In Argentina's primary system, the candidates from all parties or blocs are on the ballot against each other in each voting district. Because most candidates, including Fernandez, are running unopposed within their party, the primary effectively becomes an unofficial first round or a poll with a huge sample size.
Market Jitters
Market jitters are already causing the authorities problems. The central bank and state-run Banco La Nacion intervened to halt a decline in the peso Wednesday, selling $600 million between them. That compares with $373 million sold by the central bank on Monday and Tuesday.
A big lead for Fernandez would depress already-weak enthusiasm for Lebacs, fueling the flight to dollars that has made the peso the worst performing emerging-market currency this year, said Walter Stoeppelwerth, head of research at Balanz Capital in Buenos Aires.
"It's not just locals who are scared about this, foreigners are too," Stoeppelwerth said by phone, warning the peso could tumble as much as 5 percent. "If she's above four points I'd put a lot of money down that the currency moves next week."
Enthusiasm for the central bank's notes is already waning, with the rollover rate slipping to 74.9 percent and 84.8 percent in the past two auctions, according to calculations by Balanz Capital. The central bank needs to refinance 535 billion pesos ($30.2 billion) of Lebacs on Aug. 15, representing about 61 percent of the monetary base.
The central bank's press office declined to comment on the effect of a Fernandez win over the Lebac auction.
Poll Lead
Fernandez, who heads her alliance's party list in the race for seats to represent Buenos Aires province in the senate, leads Macri's candidate, former Education Minister Esteban Bullrich, by an average of about 5 percentage points in polls ahead of Sunday's vote. The peso has depreciated 8.4 percent since Fernandez on June 24 announced plans for a political comeback in October's midterm elections.
The market is already pricing in a Fernandez victory in the primaries by a margin of as much as 3 percentage points, Stoeppelwerth said.
Still, Fernandez could win in the primary but fall away in the election in October. The government has time and an accelerating economy on it's side, while her disapproval levels are high, suggesting that many would vote tactically to block her return.
"The thought that Cristina Kirchner could come back into power is still a black swan event," Stoeppelwerth said. "They still have three months to prime the pump. If she wins and then wins again in October - then we're in the soup."
— With assistance by Rafael Mendes
Before it's here, it's on the Bloomberg Terminal.
LEARN MORE