Australia to Hold Voluntary Postal Vote on Same-Sex Marriage
By
Government bid for mandatory public poll fails in Senate

Gay activists seek to halt process with court challenge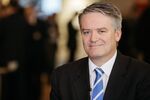 Australia will hold a voluntary postal vote on whether to legalize same-sex marriage that may lead to the issue being resolved by the end of the year, Finance Minister Mathias Cormann said.
Should a majority of voters indicate support for gay marriage, Prime Minister Malcolm Turnbull's government expects it to be legislated "quite quickly" after polling closes on Nov. 15, Cormann told reporters in Canberra on Wednesday. The move comes after the government's bid to legislate to hold a mandatory public vote, known as a plebiscite, was defeated in the Senate for a second time.
While opinion polls show a majority of Australians support marriage equality, previous efforts to legalize such unions have failed in parliament, and the issue has split the right-leaning Liberal Party. With his government consistently behind the Labor opposition in recent polls, a failure to unite the party could put Turnbull's leadership under further pressure.
Gay activists have criticized the postal vote, saying it won't be legally binding because lawmakers will ultimately make the final decision through legislation. They say it will lead to bigotry from anti-same-sex marriage campaigners and have vowed to try to block it in the courts.
Australia has become increasingly isolated among Western nations on the issue, with Germany, the U.S. and Ireland recently joining countries including the U.K. and New Zealand in legalizing same-sex unions.
For a Quicktake Q&A on Why Australia's Holding a Postal Vote, click here.
After winning the leadership of the ruling Liberal party two years ago, Turnbull stuck with the policy of predecessor Tony Abbott that Australia should hold a mandatory plebiscite, a move requiring legislative approval. With that blocked, the government -- under pressure from some of its lawmakers who have urged a free vote in parliament to resolve the impasse -- is now pushing ahead with the voluntary postal ballot.
"If you don't like same-sex marriage, vote no," Abbott, who remains a conservative voice on Turnbull's backbench, said Wednesday. "If you're worried about religious freedom and freedom of speech vote no; and if you don't like political correctness vote no, because voting no will help to stop political correctness in its tracks."
Turnbull, 62, has said he will vote to support gay marriage in the postal ballot, but won't be campaigning for it, as Australians were more concerned with other issues such as economic growth and national security.
Business Lobby
In the past, Turnbull had been a champion of marriage equality, along with other issues including cutting Australia's ties with the British monarchy and tackling climate change. As leader he's been unable to pursue the socially-progressive agenda many voters expected of him, leading to claims he is beholden to conservatives within his own party.
Marriage equality is also a growing concern for Australia's business community. Earlier this year, a group of more than 30 business leaders, including the chief executive officers of Commonwealth Bank of Australia and Telstra Corp., petitioned Turnbull to introduce legislation on same-sex marriage. Qantas Airways Ltd. CEO Alan Joyce was hit in the face with a pie during a speech in Perth in May by a man protesting against his support of gay unions.
Australia had about 46,800 same-sex couples in 2016, a 39 percent increase since 2011, government figures show. Australia's largest city of Sydney, which has hosted the Gay and Lesbian Mardi Gras since 1978, is regarded as the San Francisco of the South Pacific.
Labor leads the ruling coalition by 53 percent to 47 percent on a two-party preferred basis, according to a Newspoll survey published Aug. 7 in The Australian newspaper. While that's the same margin as the previous poll, support for Turnbull as preferred prime minister rose to its strongest position this year at 46 percent to Shorten's 31 percent.
Before it's here, it's on the Bloomberg Terminal.
LEARN MORE