Altice Is Said to Consider Bid for Charter Communications
By , , and
Patrick Drahi may follow SoftBank with own offer for carrier

No formal approach has been made, may choose not to proceed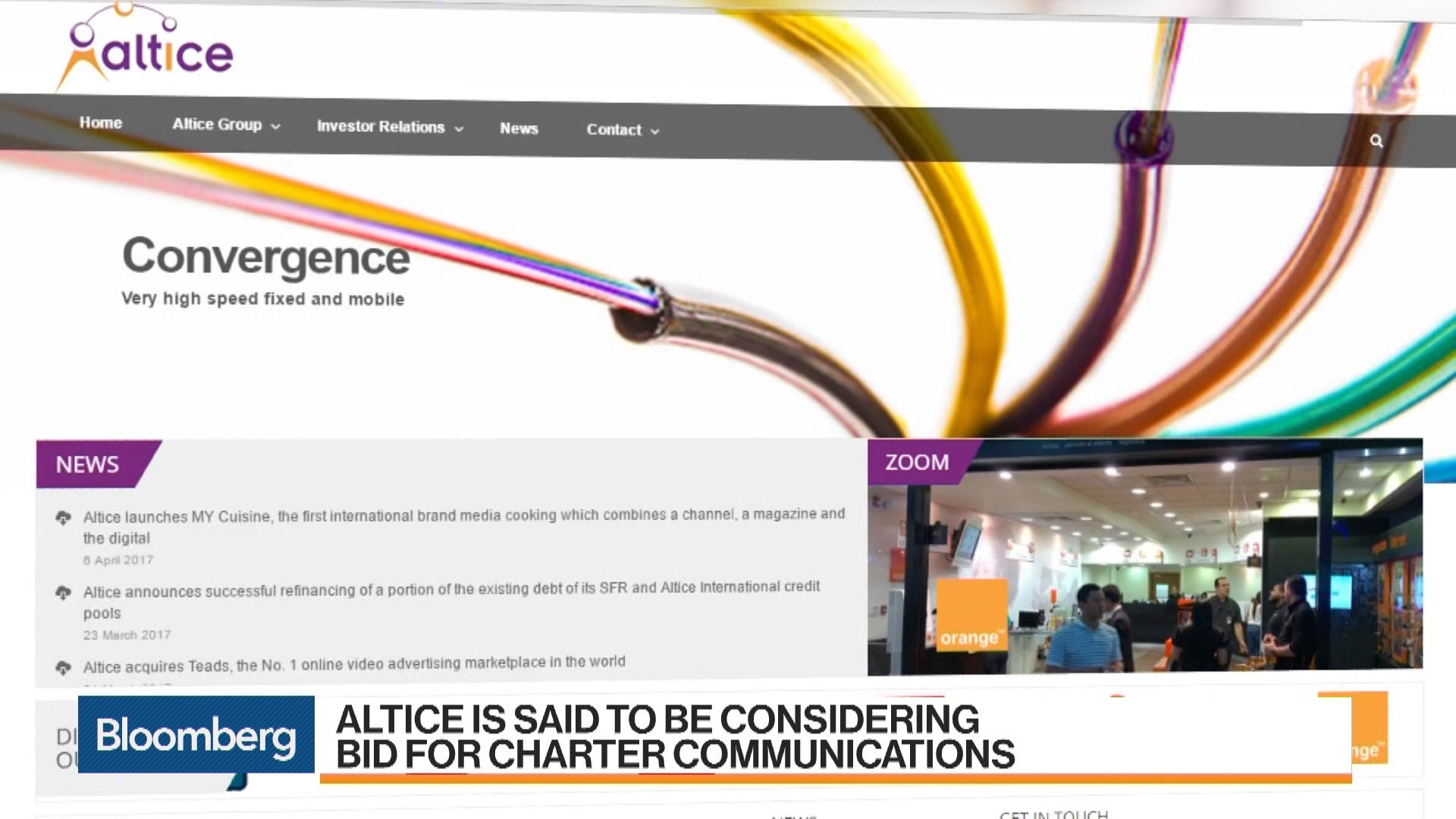 Billionaire Patrick Drahi's Altice NV is working on a potential offer to buy Charter Communications Inc., following other possible suitors including Japan's SoftBank Group Corp. in targeting the U.S. cable carrier, people familiar with the matter said.
The European telecommunications company and its U.S. subsidiary Altice USA Inc. are weighing whether to bid, though they haven't yet made an offer for Charter, the people said, asking not to be identified as the details aren't public. Altice is also considering other potential acquisitions and may not proceed with a formal proposal, one of the people said.
Altice isn't the only possible bidder for Charter. SoftBank wants to merge Charter with its struggling U.S. wireless company, Sprint Corp., and has lined up as much as $65 billion in financing to do so. Charter's board rejected SoftBank's initial proposal.
Charter shares rose as much as 4.9 percent after CNBC first reported Altice's interest and rose 2.5 percent to $399.39 in New York. Altice USA was unchanged at $31.05. Representatives for Altice and Charter declined to comment.
Charter has drawn interest from Softbank and Altice in part because it's the biggest cable asset that can be bought. Comcast Corp. and Cox Communications, the largest and third-largest U.S. cable operators, are controlled by families that haven't shown interest in selling.
Some analysts were skeptical that either suitor could swallow Charter.
"I'm sure it is very flattering to Charter to be the apple of so many companies' eyes," said Craig Moffett, an analyst at MoffettNathanson LLC. "But none of the rumored suitors -- whether Verizon, SoftBank, or Altice -- has the balance-sheet firepower to mount an offer that is more attractive than their go-it-alone strategy. All this M&A talk is titillating but isn't likely to amount to anything."
Greg Maffei, chairman of Liberty Broadband, Charter's largest shareholder, responded to reports of Altice's interest by saying his company is "very committed" to Charter's stock.
"We of course will listen to all and any offers that come in and judge them on their merit and appeal," Maffei said on an earnings call Wednesday. "Any deal that would be appealing for us and other Charter shareholders would have to have real value and show real capabilities that are beyond what we think is a very well-positioned company."
While a U.S. push has helped Drahi diversify Altice beyond a stagnant European telecommunications market, buying Charter would be by far the billionaire's biggest deal -- and presents a target that's larger than Altice and its U.S. unit combined. Charter has a market valuation of about $120 billion, compared with 31.3 billion euros ($37 billion) for Altice and $23 billion for Altice USA.
Altice USA, the fourth-largest U.S. cable company, is seeking to grow further through acquisitions after its initial public offering in June. Drahi assembled Altice USA through $26 billion in acquisitions and has said he wants to buy more pay-TV providers in the U.S. The company includes the former Cablevision Systems and Suddenlink.
Altice USA raised $1.9 billion in the IPO that was the second-biggest U.S. offering of the year. While most of that money went to existing shareholders, Altice USA can now use its stock as capital in future transactions. 
Altice USA operates in an industry that's defined by deal activity. Last year, Charter acquired Time Warner Cable Inc. and Bright House Networks for $55.1 billion to become the second-largest cable-TV provider, trailing only Comcast.
In the cable industry, the more subscribers you have, the more leverage you have to negotiate with TV networks to lower programming costs. Cable operators are trying to keep programming costs down because consumers are moving away from traditional TV for cheaper online options. Altice USA has about 4.9 million customers.
Before it's here, it's on the Bloomberg Terminal.
LEARN MORE