Economics
Abe Tries to Fix His Tarnished Image
Will a cabinet shakeup help restore Japanese voters'—and his party's—trust?
By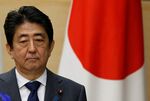 Japanese Prime Minister Shinzo Abe found a way to quiet public dissatisfaction with his performance, at least for now: He dumped pals from his cabinet and brought in the critics.
A day after Abe shuffled his cabinet on Aug. 3, expelling one of his Liberal Democratic Party protégés and introducing two detractors, his approval rating jumped six percentage points, to 42 percent, in a poll published in the conservative Yomiuri newspaper.
"In the last session of Parliament, various problems were pointed out, which caused great mistrust among the people," Abe said after announcing the shakeup. "I want to reiterate that I am reflecting on that, and I want to apologize to the people."
While Abe needs public support for an election he must call before the end of 2018, he'll have to solidify the backing of his ruling Liberal Democratic Party before then. His LDP rivals are already positioning to challenge him, well ahead of a party leadership vote expected in September 2018.
Public and party support for the prime minister has eroded over the past two months, following a series of gaffes by Abe's ministers and allegations of cronyism over government support for a school run by a friend of his. In February, Japan's Asahi newspaper reported that the operator of a kindergarten with connections to Abe's wife was given a sweetheart land deal to open an elementary school. In May and June, media and opposition parties questioned the selection of a close friend of Abe's to receive government support to open a veterinary college. Abe, who has denied involvement in the decision, has refused to cancel the project.
"The one thing that can undermine trust in Japanese prime ministers more than anything else is cronyism, unfairness," says independent political analyst Minoru Morita. By July, Abe's approval rating had dropped to 35 percent, from 58 percent in February, according to public broadcaster NHK.
Alleged missteps by former Minister of Defense Tomomi Inada have only added to the distrust. The longtime Abe ally resigned a week before the cabinet was reshuffled, after accusations of collusion in a cover-up over Japan's controversial peacekeeping mission to South Sudan. Inada has denied the allegations.
The ruling LDP suffered a humiliating defeat in July's election for the Tokyo local assembly. The question now is whether the loss will affect the timing of the general election. The main opposition Democratic Party has failed to capitalize on Abe's troubles. Its leader, Renho, who goes by one name, resigned last month after her party's approval rating fell to the single digits.
Abe's more pressing challenge comes from politicians in his own party questioning his leadership. Former Defense Minister Shigeru Ishiba, who has often spoken out against Abe's policies, is a favorite to win the party leadership election next year, according to a Nikkei newspaper poll published on Aug. 5. Former Minister for Foreign Affairs Fumio Kishida, head of a major faction within the LDP, is also a strong contender. Abe shifted him to a ruling party post on Aug. 3 and endorsed him as a future leader.
For now, says Tomoaki Iwai, professor of politics at Nihon University in Tokyo, "he will stay on—there's no mistake about it. His support rate is low, but people think there is still a chance he might be able to recover." If Abe is elected for a third consecutive three-year term as party leader, he could become the longest-serving prime minister in Japan's history.
Abe played up his successes at the Aug. 3 news conference, promising to focus again on the economy, a pledge that's helped him win all national elections since 2012. On jobs, he enjoys strong support—at 2.8 percent, unemployment is at its lowest level since the 1990s. He's pledged to lift wages, with the goal of defeating deflation. Consumer prices are rising at 0.4 percent, far from the central bank's 2 percent inflation goal. He plans to press ahead with a proposed sales tax increase to take effect in October 2019 that's meant to help fund Japan's ballooning social security costs. He's delayed the increase twice before for fear of slowing down the economy.
One item not included in the prepared remarks after the cabinet reshuffle: a plan to amend the 70-year-old U.S.-drafted pacifist constitution, a goal Abe inherited from his politician grandfather, Nobusuke Kishi, who was prime minister from 1957 to 1960. In May, Abe said he wanted to change the document to recognize and legitimize Japan's Self-Defense Forces by 2020, and had set a timetable for doing so, but he has since backed off. The idea was met with criticism—Kishida has said he personally doesn't support changing the constitution, while Ishiba disagrees with the way Abe has approached the issue.
Abe's recent moves suggest that he'll steer clear of any politically charged issues in favor of economic priorities. "I think Prime Minister Abe has basically given up on changing the constitution," says political analyst Morita. "Whatever idea the LDP comes up with, I don't think there is a hope of it reaching the necessary two-thirds majority."
Some analysts expect him to put off the next general election as long as possible as he works to fix his image and recover support. (In a general election, the public votes for candidates in their local constituencies. The party whose candidates win the largest number of seats usually forms the government.)
A more likely scenario, according to Michael Cucek, an adjunct professor at Temple University in Japan, is for Abe to go to voters this year, calling for the general election before the party leadership vote in a bid to preempt competition from Tokyo Governor Yuriko Koike, whose Tokyo Citizens First party beat the LDP in the local July election. He may not have much time to waste. A lawmaker close to Governor Koike on Aug. 7 announced he was examining policies with a view to forming a new opposition party and identifying potential candidates for the next election.
BOTTOM LINE -
Abe has seen his popularity plummet in recent months, and the strongest challenge to his leadership comes from within his own party.
Before it's here, it's on the Bloomberg Terminal.
LEARN MORE