Zuma Survival Puts South Africa's Ruling ANC in Firing Line
By , , and
Rejection of no-confidence motion does little to build trust

The vote won't 'stem the deep political malaise' of the party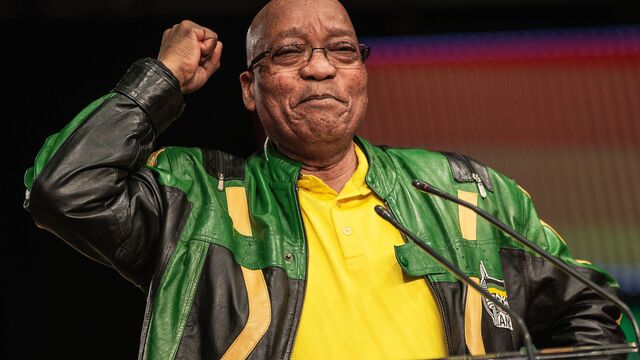 While South African President Jacob Zuma has narrowly survived yet another a no-confidence motion, the vote will do little to shore up the public's faith in his beleaguered African National Congress.
On Tuesday, ruling party lawmakers rallied around Zuma to defeat the motion 198 to 177 -- the eighth such vote the president has faced, but the first with a secret ballot. With support for the ANC waning as a result of corruption scandals that have dogged Zuma, it's a decision they may come to regret, according to Daniel Silke, director of Political Futures Consultancy in Cape Town.
"Zuma is a great political survivor, but this was a weaker-than-expected victory that will do nothing to stem the deep political malaise" gripping the party, Silke said. "The vote does not change the highly charged atmosphere that exists in the country and within the ANC."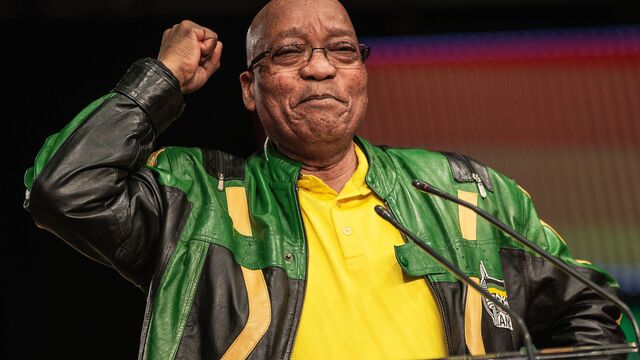 Under the stewardship of Zuma, a 75-year-old former intelligence operative who has led the country since 2009, South Africa has slipped into recession, lost its investment-grade credit rating, and seen its unemployment rate reach a 14-year high. He's clung to power because he continues to enjoy the backing of top ANC leaders who rely on him for cabinet posts and government jobs.
The vote weighed on the markets, with the rand weakening 0.7 percent to 13.4757 per dollar at 1:25 p.m. on Wednesday in Johannesburg. Bank stocks had rallied Tuesday on the expectation that Zuma would be ousted; markets in South Africa were closed Wednesday for a public holiday.
While the ANC has acknowledged that Zuma has divided the party -- more than two dozen of its lawmakers voted in favor of the resolution to topple him -- it insists it can resolve its differences. The ANC is due to choose a new leader in December, who will also be its presidential candidate in 2019.
"Zuma has been able to cling on by his fingernails, simply because the party prefers to put off the day of reckoning," said Nicholas Spiro, a partner at London-based Lauressa Advisory Ltd., which advises asset managers. "These are the death throes of the ANC."
South Africa's top court ruled last year that Zuma broke his oath of office when he refused to repay taxpayer funds spent on his private home. A report by the Public Protector in November said Zuma and some ministers may have breached the government's code of ethics in their relationship with the Gupta family, who are in business with Zuma's son. Zuma and the Guptas deny wrongdoing.
ANC Splits

The scandals have opened fissures in the ruling party, with senior officials such as Deputy President Cyril Ramaphosa speaking out against deepening corruption and the undue influence of private business interests over government institutions.
"That our own MPs voted for the motion worries us," said Jackson Mthembu, the ANC's chief whip in parliament. "It means we must deal with a lot of internal issues."
The ANC's succession race is likely to limit the ANC's ability to address its shortcomings and heal its internal divisions. Zuma's favored successor is his ex-wife, Nkosazana Dlamini-Zuma, the former head of the African Union Commission. Her election could allow him to continue to wield significant influence over the party after he steps down.
Read this QuickTake on South Africans' growing frustration
Electoral Losses
A victory by Ramaphosa, the other frontrunner for the top post, may spark a renewed effort to remove Zuma as president.
Disgruntlement with Zuma's leadership contributed to the party's worst-ever electoral performance in a municipal vote last year, and several of its senior leaders have warned that it's in danger of losing its overall majority in 2019 elections.
Zakhele Ndlovu, a political science lecturer at the University of KwaZulu-Natal, said that while Zuma may be emboldened by surviving the no-confidence vote and gain additional sway over who succeeds him in December, the ANC had little to gain by backing him.
"It could still cost the ANC the votes of those people who feel Zuma has done too much damage to the South African economy," Ndlovu said. "The opposition could try to exploit this and use it against the ANC to say the party is not serious about fighting corruption."
— With assistance by Sam Mkokeli, and Dana El Baltaji
Before it's here, it's on the Bloomberg Terminal.
LEARN MORE