Zuma's Fate Rests With South African Parliament in Secret Vote
By
Ruling ANC says opposition bid to oust president will fail

Parliamentary speaker to be acting president if Zuma ousted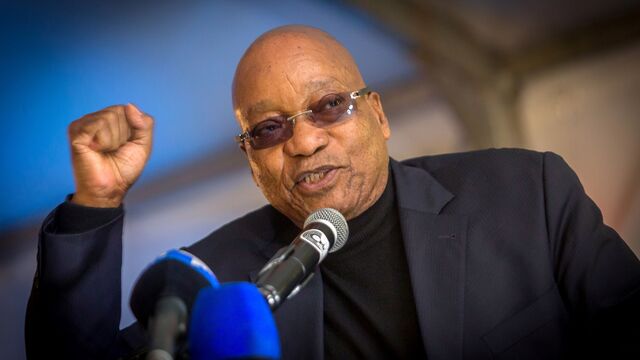 South African President Jacob Zuma faces the biggest threat to his eight-year rule on Tuesday when the 400-seat parliament votes on a motion of no confidence in him by secret ballot.
The vote on the motion, which needs a simple majority to pass, began at 4:43 p.m. local time after a debate of more than 90 minutes in the National Assembly in Cape Town and ended about two hours later. National Assembly Speaker Baleka Mbete would become acting president should Zuma be ousted and the chamber must then elect a replacement within 30 days or general elections will be called. Zuma's entire cabinet would have to step down.
Zuma's tenure has been marred by a succession of scandals that have weighed on investor confidence and helped push the economy into recession. While the ruling party has urged its members not to allow an opposition-party motion to bring down its government, Zuma's fate will rest on dozens of African National Congress lawmakers angered by his decisions and policies.
The opposition filed the motion of no confidence after Zuma fired Pravin Gordhan as his finance minister, which prompted two ratings companies to downgrade the nation's debt to junk and sparked massive public protests. Mbete ruled Monday that the vote must take place by secret ballot to prevent intimidation of lawmakers. 

"We all have a choice today to do what is just, what is right and what is honorable," Mmusi Maimane, the leader of the main opposition Democratic Alliance, said in the debate, which Zuma didn't attend. "Our choice is between right and wrong and between good and evil."
Zuma, 75, has survived seven previous votes on no-confidence motions or impeachments, all by open ballot. He's due to step down as ANC leader in December and as the nation's president in 2019.
"Nobody knows how the MPs are going to vote because their public utterances don't necessarily reflect how they feel," said Robert Schrire, a political science professor at the University of Cape Town. "There is always a chance that Zuma goes, but people who speak very confidently that he will are misleading themselves."
While the motion requires a simple majority to pass, lawmakers disagreed on whether this should be based on all 400 National Assembly seats or exclude the five that are currently vacant. Mbete said she'll seek a legal opinion on the issue.
Zuma's Scandals
The prospect of the secret ballot cheered the markets, with the rand gaining as much as 2 percent against the dollar on Monday. The currency edged stronger to 13.2122 per dollar at 5:52 p.m. in Johannesburg. Investors have turned the least bearish on the rand in more than a year, with the cost of options that give traders the right to sell the currency over those to buy it in the next week slumping to just one basis point, the lowest since November 2015, from 141 basis points on Monday.
"The rand will crash through 13" to the dollar if the no-confidence vote passes, said Kevin Daly, a portfolio manager at Aberdeen Asset Management. "Zuma being forced to resign is not priced in. Most people expect him to survive this vote."
Senior party officials, including Deputy President Cyril Ramaphosa, have spoken out against deepening corruption and the undue influence of private business interests over government institutions, known as "state capture."
A report by the Public Protector in November said that Zuma and some ministers may have breached the government's code of ethics in their relationship with the Gupta family, who are in business with Zuma's son. Zuma and the Guptas deny wrongdoing.
Read more about Zuma's ties with the Guptas here
As many as 10,000 protesters demanding Zuma's removal rallied in the streets of Cape Town Tuesday ahead of the debate, compared with a pro-Zuma demonstration of less than 5,000, according to police. Security personnel sealed off streets and erected barricades around the parliamentary complex.
After a meeting of the ANC's parliamentary caucus that Zuma attended before the debate, Secretary-General Gwede Mantashe said the motion would fail. The party has ruled Africa's most-industrialized economy since apartheid ended in 1994 and has a 62 percent majority in the National Assembly. Fifty ANC lawmakers and all opposition legislators would have to back the no-confidence motion for it to pass.
While there is mounting disgruntlement within the ANC over Zuma's leadership and his immersion in a succession of scandals, the party says it will resolve its leadership issues internally and won't allow its lawmakers to side with the opposition to bring down the government. A handful of the party's senior members have, however, said they will break ranks.
"We must vote against state capture, massive looting and corruption," Derek Hanekom, a member of the party's caucus, an ex-cabinet minister and one of Zuma's most outspoken critics, said on Twitter. "I have confidence that ANC MPs will do the right thing and serve their country and constitution."
— With assistance by Paul Vecchiatto, Sam Mkokeli, Amogelang Mbatha, and Robert Brand
Before it's here, it's on the Bloomberg Terminal.
LEARN MORE