Tesla Aims for Lower Yield Than Ratings Peers on Debut Bond
By and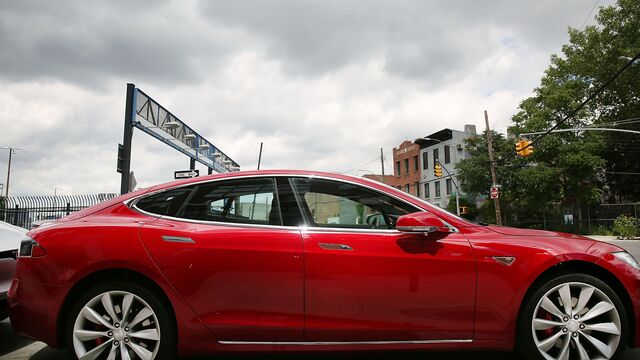 Tesla Inc. is aiming to price a $1.5 billion debut issue of eight-year bonds at a lower yield than borrowers with similar credit ratings. The electric carmaker is talking to investors about the B3/B- rated deal through Thursday and whispering a yield of 5 percent to 5.5 percent, according to people familiar with the matter, who are not authorized to speak publicly and asked not to be identified.

The average yield to worst on single B rated bonds was 5.4 percent on Monday, according to Bank of America Merrill Lynch index data. Tesla's rating is at the low end of that index, which has a composite rating of B2, implying that the new issue should yield more.
Some in the market are treating Tesla's proposed bond as a straight single-B rated auto credit. High-yield auto sector bonds yield about 4.4 percent on average, according to a BAML index which includes higher-quality debt.
Tesla is also being compared to Netflix Inc. because of its similar market capitalization, ratings and lack of cash flow. Netflix bonds of similar maturity are trading to yield about 4.0 percent to 4.2 percent.

Tesla's bond is not callable for three years. It is expected to price later this week.
Before it's here, it's on the Bloomberg Terminal.
LEARN MORE