Ralph Lauren and Michael Kors Make Headway in the War on the Discount Rack
By
Fewer markdowns help the two brands exceed profit estimates

Shoppers aren't 'fighting us' on prices, Michael Kors CEO says
Ralph Lauren and Michael Kors merchandise is less likely to be marked down these days, and that's showing up on the bottom line for both companies.
The two fashion houses posted profit that handily beat analysts' estimates on Tuesday -- a sign of progress in their efforts to get customers to pay full price -- and helped send the stocks soaring. Deep discounts had squeezed earnings in recent years and eroded the prestige of the brands.
Now many shoppers seems to be less obsessed with getting a low price -- and more focused on the product itself, said John Idol, chief executive officer of Michael Kors Holdings Ltd. The London-based company has cut down on its promotions, and the typical customer is "not fighting us on that," he said on an conference call.
"As long as we are giving her the right product, she's responding extremely well," he said.

Michael Kors climbed as much as 22 percent to $45.49 in New York trading, while shares of Ralph Lauren Corp. advanced 11 percent to $87. The gains represented the stocks' biggest rallies in at least 18 months.
At Ralph Lauren, first-quarter earnings amounted to $1.11 a share, excluding some items. That topped the average analyst estimate by 17 cents. In one sign the company is charging higher prices, gross margin increased more than 2 percentage points to 63.2 percent. Margins are expected to expand at least another percentage point in the second half, Chief Financial Officer Jane Nielsen said on a conference call.
"Clearly, the significant improvement in gross margin is a great sign the strategy of tightening inventory and pulling back on promotions is helping profitability," said Bloomberg Intelligence analyst Chen Grazutis. "The jury is still out as to how successful the company could be in bringing consumers back to the brand and drive top-line growth."
Limited-Edition Polos

The results represent an early gift for new CEO Patrice Louvet, a Procter & Gamble Co. veteran who took the helm last month. He comes into the job after a rocky stretch. The five-decade-old business has been closing retail locations, including its flagship Polo store on Fifth Avenue. And the previous CEO, Stefan Larsson, left the company after creative differences with its founder.
Louvet said he plans to improve customers' online and in-store experiences, and will modernize the brands to pull in more younger consumers. The company is introducing five limited-edition Polo shirts through November, and will market them on social media, Nielsen said.
While Ralph Lauren's same-store sales declined 6 percent, that was roughly in line with the 5.8 percent drop predicted by analysts, according to Consensus Metrix. Revenue was $1.35 billion in the period, compared with a $1.34 billion average estimate.
Michael Kors, meanwhile, posted profit of 80 cents a share last quarter. That topped analysts' 62-cent projection. Sales fell 3.6 percent to $952.4 million, but the decline was far more mild than projected. Wall Street was bracing for a drop to $919 million.
Full Price
Watch Next: Why Michael Kors and Jimmy Choo Make a Good Fit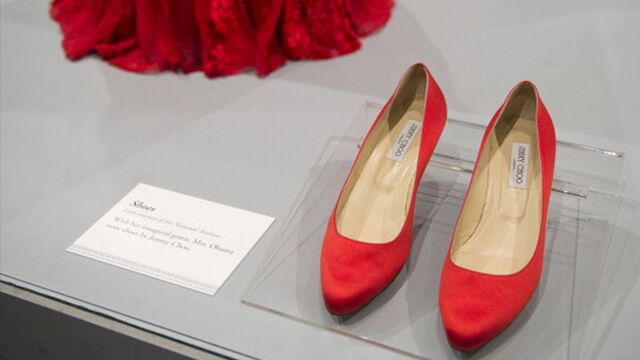 Idol said the company's two best-selling products in the past quarter were Mercer handbags and smartwatches -- all of which sold at full price. Its Bancroft bags, which are made in Italy and cost about $1,000 on average, are also selling well. The CEO said he is seeing some improvement in the department-store business.
"We really have shown that if it's the right product you do not have to have these aggressive markdowns happening at retail," Idol said.
Starting with the Spring season, the company plans to begin raising prices at its own shops and at department stores, starting with its Michael Kors Collection handbag, he said.
Michael Kors has been diversifying beyond handbags by expanding its smartwatch, menswear businesses and its women's ready-to-wear lines, which Idol said is seeing strong results. The company expects smartwatches to account for 25 percent of total watch sales by the end of the year.
More Deals
Michael Kors agreed to buy shoemaker Jimmy Choo Plc for $1.2 billion last month, aiming to add luster to the brand. And Idol said he's planning to make more acquisitions as part of his growth strategy.
But for now, Ralph Lauren and Michael Kors are using similar tactics: making their products more exclusive by closing storefronts and relying less on the troubled department-store industry.
The progress shows that a brand like Michael Kors can once again "regain the permission to charge full price," said Simeon Siegel, an analyst at Instinet LLC.
"Investors have been afraid that Michael Kors was on a downward spiral, but this result appears to show them emerging from that black hole," he said.
Before it's here, it's on the Bloomberg Terminal.
LEARN MORE