Fewer Passengers Bumped by U.S. Airlines After Dragging Case
By and
Ticketed passengers being refused seats lowest since 1995: DOT

Kentucky doctor was hauled off United flight in Chicago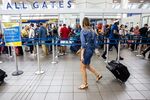 A raft of airline policy changes prompted by the high-profile case of a man who was injured while being dragged off a plane in Chicago earlier this year have had a dramatic result: airlines reported the lowest level of involuntary passenger bumpings in history.  
Ticketed passengers who were refused a seat on flights fell to 44 per million passengers from April through June, the Department of Transportation said in an emailed statement Tuesday. That was the lowest quarterly rate since the agency began collecting the data in 1995.
The rate was 29 percent lower than the same period a year earlier, when 62 customers per million were bumped, according to department.
Airline executives were hauled before Congress, and carriers raced to change their policies, after a man was injured on April 9 while being hauled from a United Airlines plane in Chicago. The incident was captured on video and widely broadcast on television and on social media.
David Dao, a doctor from Kentucky, suffered a concussion, a broken nose and damaged teeth, said Thomas Demetrio, a lawyer he hired in the days after the incident. Dao had been flying back to Louisville and didn't want to miss his flight because he had patients to see, Demetrio said.
After refusing to leave his seat -- which the airline needed so it could transport crew members -- airport security workers removed him by force.
United Case
"Thank heaven the airline industry learned from this, and without government intervention so far," Jay Sorensen, an industry consultant with IdeaWorksCompany in Shorewood, Wisconsin, said in an interview.
Sorensen said carriers moved more quickly compared to the issue of planes being stuck on airport tarmacs after bad weather, which continued to occur for years and prompted new regulations that imposed large fines on carriers.
The airline in the spotlight over the issue, United Continental Holdings Inc., went from 957 involuntary bumpings in April, to 61 in May and 46 in June, according to company spokeswoman Megan McCarthy.
The rate of involuntary denial of boarding during the first six months of the year, 52 per million passengers, was also the lowest recorded for a six-month period since 1995, according to the department.
Can Airlines Really Do That? Bumping and the Law: QuickTake Q&A
Since April, airlines have increased the compensation they pay customers who are denied a seat and made other policy changes. American Airlines Group Inc., for example, created a desk that monitors every flight that is oversold and gets involved earlier to find volunteers willing to give up their seats.
Of the 12 airlines required to report data to the department, a total of 7,764 people were involuntarily denied seats in the April-June period, according to the records. That compares with 10,683 a year earlier.
The numbers of involuntary bumpings don't include the people who voluntarily agree to give up their seats on overbooked flights, often in exchange for travel vouchers. There were 94,151 such cases during the second quarter, a rate of 531 per million, according to the department.
While United's rate for all of the second quarter was the same as in the first quarter, it will have one of the lowest rates in the industry if it continues the pace of May and June, according to the U.S. data.
The number of passengers bumped involuntarily at United fell 88 percent in June when compared with the same month a year ago, according to the company's data. In the weeks after the Dao incident, the company adopted 10 changes meant to head off customer disputes and prevent anyone from being dragged off another plane.
Paying Up
The policy changes at United included reducing the overbooking of flights and increasing the potential payouts to people who voluntarily give up their seats on an oversold flight to as much as $10,000. Previously, payouts to passengers on overbooked flights were capped at $1,350. Delta Air Lines Inc. also increased its maximum payout for people who volunteer to give up their seats to $9,950.
In May, Southwest Airlines Co. stopped overbooking flights, limiting denied boardings to operations-related problems. "Discontinuing the act of overbooking is consistent with our customer-friendly policies, and we are pleased that the denied boarding numbers are at an all-time low," said Brandy King, a spokeswoman for the airline.
The rate between airlines varied significantly. JetBlue Airways Corp. reported involuntarily denying seats to only 42 people during the second quarter this year, a rate of about 4 per million passengers.
By comparison, low-cost carrier Spirit Airlines Inc. led the pack with 731 involuntary bumpings, a rate of more than 125 per million.
Delta was the lowest of the large U.S. carriers, according to the department. It denied seats to 296 people during the second quarter for a rate of 9 per million. Delta's rate "has been far lower than even airlines much smaller than ours," spokesman Morgan Durrant said.
Southwest had the most among major carriers with 2,642 bumpings, or 64 per million fliers.
The data are collected for the 12 carriers that have at least 1 percent of U.S. domestic passenger-service revenues.
Overbooking of flights is a justified business practice when some fares allow passengers to easily switch flights at the last moment, which could leave carriers with unsold seats, Sorensen said.
The key to avoiding bad publicity from incidents like the one earlier this year is to give more authority to gate agents to work with passengers and to give them more compensation to voluntarily switch to other flights, he said.
— With assistance by Mary Schlangenstein
Before it's here, it's on the Bloomberg Terminal.
LEARN MORE