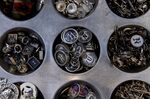 Pandora's second quarter performance was far from charming.
The maker of affordable bling missed sales and earnings estimates, as the U.S. market remained difficult, and costs rose. The shares slipped as much as 9.5 percent in early trading.
Pandora A/S has had a ride as wild as one of its more outlandish charms -- a gold crown selling for more than 500 pounds ($652). The shares are down about 25 percent this year, a far cry from their sector-beating 73 percent gain in 2015.

The U.S. has been the main irritant, where the company has cut 700 points of sale to concentrate on expanding its Pandora branded store base, and has also been hit by weaker mall traffic.
This comes against the backdrop of broader concerns, that after years of strong sales, demand for Pandora's trinkets may be starting to fade. And, as the company continues to open its own stores apace -- 300 this year globally, compared with the previous estimate of over 275 -- the risk of cannibalization is rising.
Meanwhile, margins have been hit by adverse currency movements and commodity costs.
Hedge funds have seized on the weakness, with short interest at about 8 percent of the shares, according to IHS Markit.

But Pandora is the master of postponing charmageddon, and there were some silver linings in the second quarter.
First, the U.S. performance improved as new products, and the in-store marketing to promote them, chimed with consumers. The company reported like-for-like sales growth of 8 percent, including online, in the second quarter, compared with a decline of 3 percent in the preceding three months. 
This still isn't enough to overcome headwinds in that market. Until this improvement turns into a sustained trend, Pandora will be more dependent on other markets, particularly China.
Here there was also good news, with sales up 91 percent in local currency in China in the first quarter. The company plans to open 60 Pandora-branded stores in China this year, up from its previous estimate of 50.
It is so far holding its own even as the high-end luxury market in China bounces back, with consumers snapping up Louis Vuitton bags and Gucci loafers. But a wobble could see a return to more affordable and less ostentatious bling, such as Pandora charms.

The share-price slide means its forward price to earnings ratio is about 11 times, compared with almost 20 for the Bloomberg Intelligence luxury peer group. That looks harsh. But Pandora will have to transform the faint glimmers of hope into the full luster of recovery to close the gap -- and put the short sellers on notice.
Before it's here, it's on the Bloomberg Terminal.
LEARN MORE