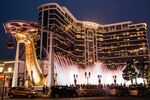 Speculation mounted this week that the Trump Organization could try its hand at running a Macau casino after filings showed representatives of the U.S. president's company applied for trademarks in the world's largest gambling hub.
Let's put an end to the handicapping right here: The odds the Trump clan gets to adorn a Macau casino with The Donald's signature gaudy gold are as slim as trying to beat the house at roulette.
Yes, the government licenses that allow Macau's six operators to run a casino oligopoly are set to expire in 2020 and 2022, and that in theory could open up the Chinese peninsula for more competition. In reality, though, Macau's casino industry is not governed by some democratically run process that gives licenses to the highest bidder, or the one with the most lucrative business plan. 
What matters most to China is which companies the authorities believe can run gaming operations in a way that keeps money flowing in without leaking too much of it out. That's why we warned last week that Macau's turn of fortune will last only if operators play by the government's rules.

If anything, it's becoming clearer China wants American companies to have less of a presence in Macau, not more. And that certainly wouldn't bode well for a Trump casino.
Protectionism for local workers has been increasing, with some casinos trying to tilt management ranks toward a Macanese majority and sending expats back to the U.S. Strict labor laws already prevent foreigners from working at the tables. 
China certainly needed American gaming giants Sands China Ltd., Wynn Macau Ltd. and MGM China Holdings Ltd. more than a decade ago to help shift the enclave's reputation from a seedy backwater dependent on VIPs with dirty money into a place gaming enthusiasts could take their wives and kids to play, eat and shop. China reckoned it could learn from the masters, then out-Vegas Las Vegas.

Now, even though the majority of Macau's gaming revenue still depends on these high-rollers, the mass market has increased to 42 percent of gaming revenue from 30 percent five years ago, according to the Macau Gaming Inspection and Coordination Bureau.

China probably won't abandon the original crew of U.S. casino operators right away, especially considering the billions of dollars they've plunged into new properties like the Wynn Palace, which whisks guests into a lavish building via red cable cars above a fountain choreographed with classical overtures.
But it's unlikely that Macau -- read Beijing -- will welcome any new Americans to the gambling town. Even the president.
Before it's here, it's on the Bloomberg Terminal.
LEARN MORE