Game Changer
The Hotelier Who Reinvigorated a New York Neighborhood Heads to Vegas
Sydell Group founder Andrew Zobler has transformed sleepy areas from Los Angeles to London into hot spots.
By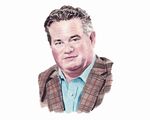 Andrew Zobler developed a proficiency in patina early. "My grandmother was an antique dealer and also did interior design on the side for some of her better clients," he says. As a child, he rummaged through les puces and estate sales of the great cities of Europe with her. After graduating from Brooklyn Law School, Zobler moved on to a field with bigger finds and higher stakes: real estate. In his early career he made deals on behalf of Barry Sternlicht, founder of Starwood Hotels & Resorts Worldwide; André Balazs, who created Standard Hotels and the Mercer and resurrected Chateau Marmont; and onetime music exec Alex Calderwood, with whom he raised the capital to open Ace Hotels in Palm Springs, Calif., and New York. As the developer of the New York property, Zobler was involved in almost every detail—from restaurants to retail partners to the design of the lobby—and it made him crave more. With his next project, New York's NoMad, he put himself in charge of the whole thing, including operations. "I wanted to prove to myself and to the world that I could create a hotel," he says.
Zobler now oversees eight hotels as chief executive officer and founder of Sydell Group, including the Line in Los Angeles, the Freehand in Miami, and his most recent, the Ned, a property of goliath proportions in London's long-empty Milford bank building. His signature maneuver is to make high-risk bets on grand old buildings, bringing life and commerce back to the dormant neighborhoods around them, including Koreatown in Los Angeles, London's Square Mile, and the area north of New York's Madison Square Park, site of the Ace and the NoMad. Earlier this year, the Ace property was valued at $130 million, more than triple its late-2007 purchase price of $40 million. Manhattan's generally high real estate market accounts for some of the uptick, but Zobler's work also pushed the once-quiet ZIP code into the can't-get-a-seat-at-a-bar price zone for commercial properties.
Projects such as the Ace are risky, because they target a fickle audience—i.e., cool kids and tastemakers. "But some developers, including Andrew Zobler, have experience and reputations that mitigate much of that risk," says Bjorn Hanson, head of New York University's Preston Robert Tisch Center for Hospitality and Tourism.
With the opening next year of the Park MGM in Las Vegas, which he's undertaking with the namesake casino giant, Zobler is looking beyond boutique hotels to megaproperties with mega social scenes. It's a process he began with the Ned, which already serves as many as 2,800 diners a day in its nine restaurants. But the Park will be far bigger, a 3,000-room multiconcept resort. Convention hotels, Zobler says, don't have to be as boring as they usually are: "To me, that's the next chapter."
Before it's here, it's on the Bloomberg Terminal.
LEARN MORE