business
An Also-Ran in Cancer Drugs, Sanofi Sees Chance to Close the Gap
By
French drugmaker aims to be second behind Merck with lung drug

Astra failure shows risk of upheaval, Sanofi's Zerhouni says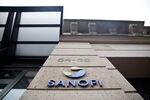 Sanofi, the French drugmaker that's been a laggard in the race to develop a new generation of cancer drugs, sees an opportunity to close the gap after key contenders including AstraZeneca Plc and Bristol-Myers Squibb Co. faced major setbacks.
The drugmaker aims to be the next to come to market with a primary treatment for lung cancer patients in a class of immune therapies known as PD-1 inhibitors, Elias Zerhouni, president of global research and development, said in a phone interview Friday. Merck & Co.'s Keytruda is currently the only approved first line of treatment, having won clearance in May for the most common form of the disease.
Sanofi's ambitions reflect the potential disruption in an increasingly crowded market for medicines poised to generate $25 billion in sales in a few years. AstraZeneca's startling failure last month -- a year after a similar upset at Bristol-Myers -- shows the first drugs out of the gate may not win the contest, with doctors pressing for more research. Merck and Roche Holding AG are among the current leaders, though drugmakers from Pfizer Inc. to Novartis AG are devising therapies to harness the immune system.
"It's not a sprint to one target and that's it, you're the winner," Zerhouni said. "The immuno-oncology field will be going through upheaval and changes in position for the next 20 years."
Lung Focus
Sanofi and others are pursuing therapies in particular for lung cancer, one of the deadliest forms of the disease. AstraZeneca surprised investors last month when its combination of two drugs failed to significantly check the growth of tumors in a trial dubbed Mystic, while Bristol-Myers last year unexpectedly lost its lead following the failure of a key study.
There's a lot at stake for the companies developing the cutting-edge drugs. AstraZeneca shares suffered their biggest decline ever, wiping out about $14 billion in market value in a single day when the company disclosed the failed study. For Bristol-Myers, disappointments tied to its key cancer drugs helped wipe out more than a fifth of its market value over the course of a year, and stoked speculation about a potential sale of the company.
A late-stage test evaluating Sanofi's treatment in lung cancer started in May, according to the Paris-based company, which is developing the therapy with U.S. partner Regeneron Pharmaceuticals Inc. It may take four years to complete the trial, according to a filing. Sanofi also expects to submit the treatment to U.S. regulators for approval in the first quarter of 2018 for a form of skin cancer.
"We are attempting to catch up and get the same, if not better, results," Zerhouni said. "Then we have combination therapies that hopefully will allow us to actually leapfrog in some areas."
Treatments can target either PD-1 or PD-L1 proteins, which bind together and prevent the body's own T cells from attacking cancer cells. AstraZeneca and Roche are among companies developing a type of immuno-therapy known as a PD-L1 inhibitor. Sanofi's work suggests that treatments focusing on PD-1 may be more effective, according to Zerhouni, a former director of the National Institutes of Health, the U.S. medical research agency.
Deals Needed
Sanofi is working to revive its oncology business, which was once fueled by blockbusters such as Taxotere and Eloxatin but has seen sales wane as patents on the drugs expired. The company's efforts included at attempt to buy U.S. cancer-drug maker Medivation Inc. last year, though it lost out to Pfizer Inc.
Like other pharma companies vying to challenge the likes of Roche and Merck, it may still need to clinch deals.
"I see little opportunity for late entrants," Nick Turner, an analyst at Mirabaud Securities in London, said by phone. "I find it difficult, without an acquisition, to see how anybody else is going to build a competitive position in the PD-1 space."
While Sanofi is continuing to collaborate with Regeneron to discover and develop new immuno-therapies, the French company is ending a separate agreement that led to key drugs for cholesterol, eczema and rheumatoid arthritis to focus on in-house research.
Internal Efforts
Sanofi is counting on new drugs, like the $37,000-a-year medicine for severe eczema called Dupixent, to offset weakening sales of its insulin, Lantus. The drugmaker is also benefiting in recent months from rising demand for vaccines and multiple sclerosis treatments.
The goal is that by the end of the decade about two thirds of the company's late-stage pipeline will come from internal research, Zerhouni said. Only one third does at the moment.
"The economics of internal assets are better than the economics of partnered assets," he said. "At the end of the day, you cannot just be a buyer of innovation."
Before it's here, it's on the Bloomberg Terminal.
LEARN MORE