Rouhani Criticized for All-Male List of Cabinet Ministers
By and
Men proposed for 17 of 18 slots announced in new cabinet

Decision may have been taken to avoid conservative protests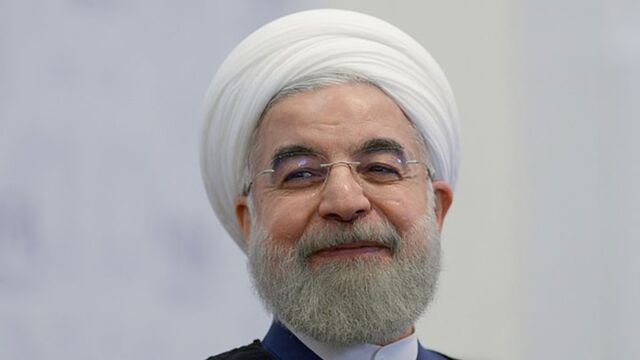 Follow @bpolitics for all the latest news, and sign up for our daily Balance of Power newsletter.
Iran's Hassan Rouhani presented an all-male line-up of cabinet ministers to parliament, drawing criticism from female supporters and fueling speculation he backtracked on a campaign pledge to avoid irking conservatives at a critical juncture in his presidency.
Rouhani nominated men to fill 17 of 18 ministerial slots in his second-term government, according to the semi-official Tasnim news agency, with no one yet put forward for science minister. He did include three women among a dozen vice presidents appointed on Wednesday -- mirroring their representation in his first administration -- but that failed match the rhetoric of the buildup to May's election, when Rouhani vowed to further address the extreme gender imbalance in politics.
"Right now, many members are expressing their opposition," Tayyebeh Siavashi, a reformist lawmaker who was among the 17 women elected last year to represent pro-Rouhani factions, said by phone from inside parliament after the ministerial list was submitted. "It's a big question for us: Why after all our efforts and hard work do we have no women at all?"
Rouhani may have been attempting to avoid a backlash from hardliners who have opposed his goals of rebuilding the economy with investment from the West, as well as easing restrictions in a heavily regulated society. They have grown ever more vocal since President Donald Trump entered the White House, swinging behind Iran's regional foes and signaling he was preparing to withdraw from the 2015 nuclear deal that lifted most sanctions.
Two of the three women Rouhani nominated to be his deputies -- Shahindokht Molaverdi and Masoumeh Ebtekar -- were also vice presidents in his earlier term. Ebtekar will take charge of women's and family affairs, while Molaverdi, who has led efforts to strengthen laws protecting women against violence and ease those restricting their ability to travel, will serve as a special adviser on citizenship rights to the president. Rouhani's vice president for legal affairs, Laya Joneydi, is a new face.
Read: Will the U.S. Blow Up the Iran Nuclear Deal?: QuickTake Q&A.
Under pressure from the clerical leadership to deliver real economic gains for ordinary Iranians, and facing growing U.S. threats to the landmark agreement, the overall makeup of Rouhani's team suggests he was probably unwilling to push the cultural and political limits of the nation's Islamic system.
"The only reasonable explanation for his choices is that he tried to be very uncontroversial to avoid increased tensions so his cabinet can do some work," said Adnan Tabatabai, chief executive officer of the Center for Applied Research in Partnership With the Orient, a think-tank based in Bonn, Germany. "He can live with pressure coming from female activists."
"There is no real color in the composition of the cabinet," said Tabatabai. "These people are not high profile, they are not figures that would embody a certain political current."
Foreign Minister Mohammad Javad Zarif and Oil Minister Bijan Zanganeh were reappointed on Tuesday, as was Abbas Akhoundi, the minister for roads and urban development who oversaw multibillion dollar deals with Boeing Co. and Airbus SE following the sanctions-lifting nuclear deal. The proposed ministers need to be confirmed by lawmakers, with votes beginning next week.
Small Advances
Rouhani, a moderate cleric, was comfortably re-elected president in May after a campaign that often highlighted increased liberties for women and their improved participation in politics and business.
"Up until the last moment, serious efforts were underway to make sure there would be names on there," said Amene Shirafkan, a journalist who campaigns on women's issues and stood as a candidate in Tehran's city council elections, referring to the list. "It's a rather conservative cabinet, much like Rouhani himself."
Women did make some advances during Rouhani's first term. The oil ministry appointed its first female deputy minister to lead the petrochemicals sector, and last month state-run Iran Air announced its first woman CEO. But the president has failed to build on the breakthrough achieved by his predecessor, Mahmoud Ahmadinejad, who gave the Islamic Republic its first female minister -- Marzieh Vahid-Dastjerdi, who ran the health ministry during his second term.
Nominating women "would have been going into uncharted territories in ways that would have distinguished his cabinet," said Ellie Geranmayeh, senior policy fellow at the European Council of Foreign Relations. "Perhaps it was too much of a controversial step for him to put women in such key positions. Perhaps expectations were too high."
Siavashi, the lawmaker, said Rouhani's failure to live up to his campaign vows could ultimately damage confidence in the political process.
"We had an expectation that he definitely would introduce women," she said. "We really don't know the reason because it can't be about expertise," Siavashi said. "If it's a case of women just being needed for the ballot box, well that's really upsetting."
Before it's here, it's on the Bloomberg Terminal.
LEARN MORE