Air Force Pressing Northrop Over a Damaged Radar, Extra Fees
By
It's a rare case of the military calling out a contractor

Dispute is over Northrop's Jstars surveillance aircraft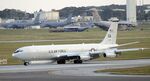 The U.S. Air Force is actively pursuing the recovery of funds from Northrop Grumman Corp. in a dispute over upkeep of its Joint Stars surveillance aircraft, including damage to a radar during maintenance, according to a service spokesman.
While the amounts are small by Defense Department standards -- totaling less than $15 million -- it's a rare public admission by a military service that it's holding a defense contractor and its own contract managers accountable for poor performance.
The push for repayment comes as Northrop is competing in a $7 billion contest for a successor to Joint Stars that's likely to pit it against Boeing Co. and Lockheed Martin Corp. and could count against Northrop in that contest.
Derek Kaufman, a spokesman for the Air Force Materiel Command, which oversees management of Northrop acquisition and support programs, said in an email that the service "will seek compensation."
Northrop is performing maintenance on Joint Stars aircraft under a $7 billion "total system support contract" awarded in September 2000 that had a six-year base with 16 annual options.
Joint Stars -- short for the Joint Surveillance and Target Attack Radar System -- is a Boeing Co. 707-300 airframe that Northrop equipped with radar, sensors and moving-target indicators. The 16 planes have been used since the 1991 Gulf War to monitor enemy ground movements and pass along locations for airstrikes and intelligence. The aircraft are now flying over Iraq monitoring Islamic State terrorists.
Radar Damaged
The Air Force will seek payment for as much as $7.3 million in damage caused by Northrop mechanics during depot maintenance completed in July 2016 to the radar antenna and other electrical equipment of a Joint Stars air-to-ground surveillance aircraft.
It's also reviewing the findings in a Pentagon inspector general's report issued in November that found $7.6 million, or about 15 percent, of a bonus fee paid in a recent period for Joint Stars maintenance was undeserved because the service contracting officer "mismanaged the award fee pool," the audit said.
The service "has identified several potential contractual remedies for the
radar damage," Air Force spokeswoman Patty Welsh said. "It is premature at this time to discuss any specific way forward, or to attach a specific timeline, as the parties seek a satisfactory resolution of this matter."
Tim Paynter, a Northrop spokesman, said, "We continue to work closely with our Air Force customer in supporting this critical mission, and we remain committed to superior quality for the high-performing Joint STARS fleet."


Before it's here, it's on the Bloomberg Terminal.
LEARN MORE