Wells Fargo Breaks Sharply With Industry as Its Legal Risk Rises
By
Lender increases possible legal losses by 65% to $3.3 billion

Similar projections at biggest U.S. rivals ticking downward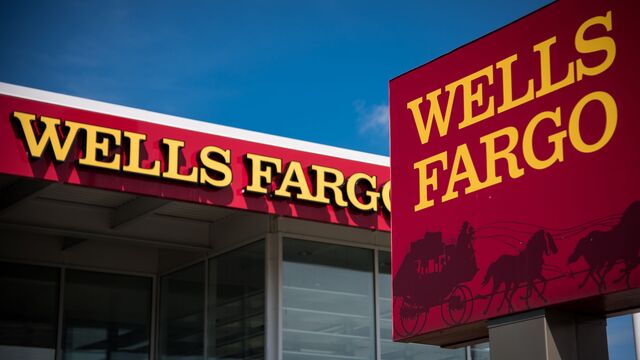 Wells Fargo & Co. is signaling like never before that legal costs might surge, just as U.S. rivals say they're exiting an era of probes and litigation that cut profits for years.
On Friday, Wells Fargo provided a quarterly list of inquiries and lawsuits it faces, and updated an estimate of "reasonably possible" losses from such cases. The firm said it might ultimately need to spend as much as $3.3 billion more than what it already set aside. That's a record level for the San Francisco-based company, and 65 percent higher than the danger it saw just three months ago.

The jump shows how Wells Fargo's mounting legal woes are defying the industry trend after a scandal over fake accounts last year set off public outcry, internal reviews and heightened government scrutiny. Similar projections by the rest of the nation's five biggest banks -- JPMorgan Chase & Co., Bank of America Corp., Citigroup Inc. and Goldman Sachs Group Inc. -- have been ticking downward for years.
Wells Fargo's legal disclosures helped prompt Credit Suisse Group AG analyst Susan Roth Katzke to reduce her full-year earnings-per-share estimates for Wells Fargo, she said Monday in note to clients. She lowered her 2017 prediction by 2 cents to $4.18 and her 2018 estimate by 10 cents to $4.45.
Late last month, Wells Fargo said it may have forced unwanted insurance on customers who took out car loans. Last week it disclosed additional government probes, including a look into whether consumers were "unduly harmed" by the bank freezing and closing accounts suspected of fraudulent activity. And it's still trying to pinpoint how many bogus accounts employees opened without client permission while trying to hit sales targets.
Greater Clarity
In a statement Friday, Chief Executive Officer Tim Sloan vowed to leave "no stone unturned" as the bank examines businesses and resolves claims to win back customer and investor confidence. The stock was down 4.1 percent this year through last week, compared with an 8.9 percent gain in the S&P 500 Financials Index.
Even with the recent disclosures, Wells Fargo investors would be better served with greater clarity, according to Evercore ISI analyst John Pancari. "Visibility into the regulatory and legal issues at Wells remains limited, and earnings momentum appears to be suffering somewhat," he said in a note to clients.
Regulators have pushed banks to estimate potential legal losses so shareholders can gauge risks, even if they aren't likely to be borne out. In the wake of the financial crisis, Wells Fargo often projected the lowest levels of risk among the five largest banks. Morgan Stanley, the sixth-biggest firm, provides figures for certain cases, but doesn't provide a total.
— With assistance by Felice Maranz
Before it's here, it's on the Bloomberg Terminal.
LEARN MORE