Merkel's Party Sees Complacency Risk as Campaign Gears Up
By
Poll lead doesn't mean German vote is 'in the bag,' CDU says

New campaign twist features images of chancellor pulling faces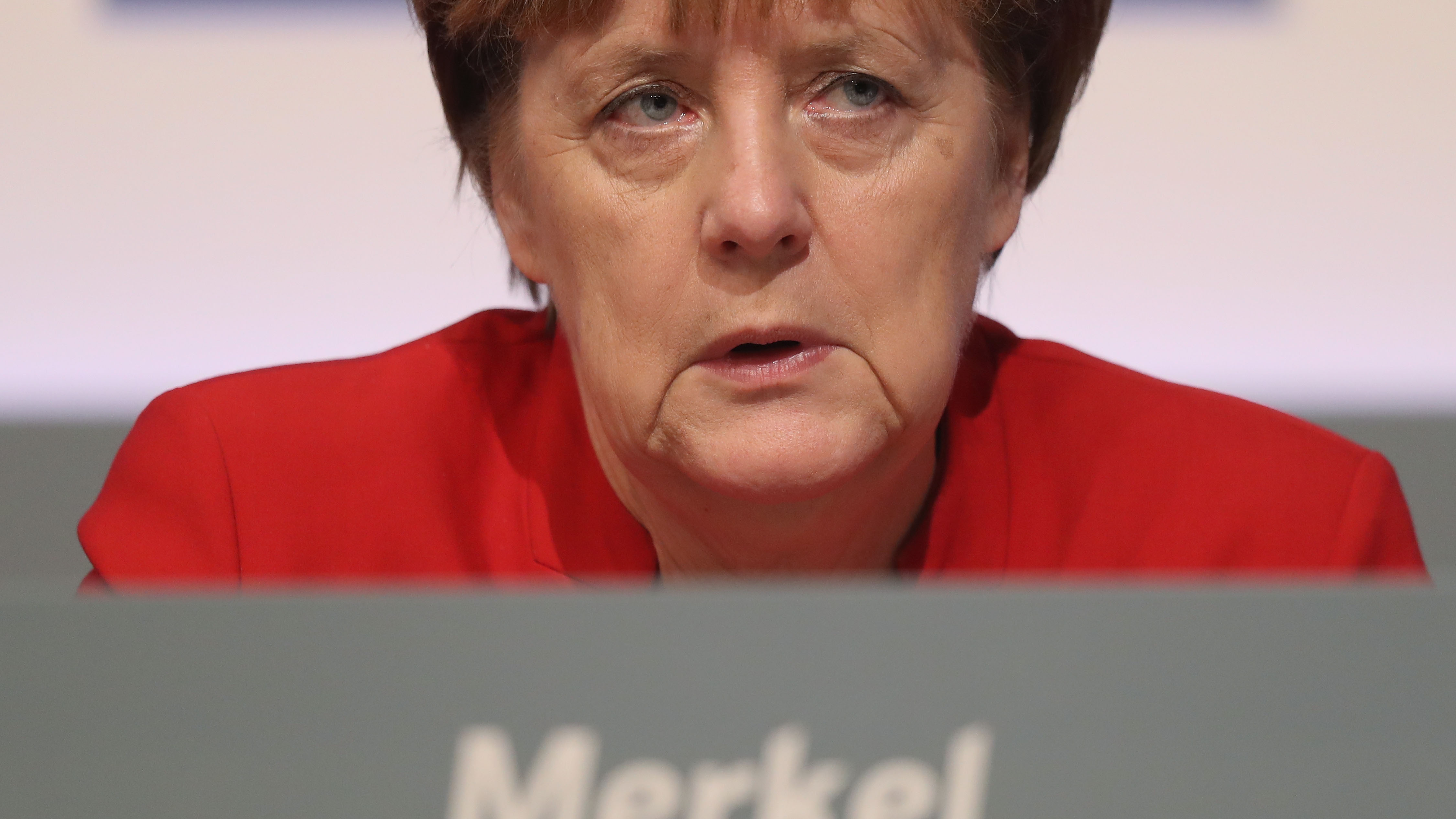 German Chancellor Angela Merkel's party warned against writing off her election opponents as she gears up for a final six-week campaign push with a wide lead in the polls.
"It's clear to us that the election isn't in the bag yet," Peter Tauber, general secretary of the Christian Democratic Union, told reporters in Berlin on Monday. "We're ready for the final stretch."

Support for Merkel's CDU and her Bavarian CSU allies was steady at 38 percent in an Emnid poll published Sunday while the Social Democrats of Martin Schulz, her main challenger, declined 1 percentage point to 23 percent ahead of the Sept. 24 ballot. Merkel, who's running for a fourth term at the helm of Europe's biggest economy, has opened up a lead again since the spring after Schulz's nomination vaulted the SPD to near parity in February.
Campaigning gets under way in earnest this weekend after a summer lull, with Merkel holding a rally in the western industrial city of Dortmund on Saturday and Schulz giving an interview to national public television on Sunday. CDU campaign managers unveiled a batch of posters on Monday focusing on jobs, families and public safety, three themes Germany's biggest party plans to hit hard during the campaign.
With the German flag's black, red and gold colors as a backdrop, the posters seek to summon a patriotic mood while the SPD emphasizes social equality and solidarity. "For a Germany in which we live well and gladly," the CDU tagline says.
Merkel's Faces
In a push for CDU activists to present Merkel's human side, her campaign also unveiled a flyer with images of Merkel smiling and even pulling faces.
"We've tried to encapsulate some of her many facets, including her sense of humor," Tauber said.
While Merkel's campaign is wary of election hubris, potential coalition partners are already wooing her.
Christian Lindner, head of the Free Democratic Party that's campaigning to re-enter parliament after a four-year absence, told Sunday newspaper Bild am Sonntag he expects Merkel to be re-elected. In that case, the party that finishes third would be the main gauge of the national mood, said Lindner, whose FDP was Merkel's coalition partner between 2009 and 2013.
Smaller Parties
Polls suggest a neck-and-neck race for third place between the pro-business FDP, the Greens and the anti-capitalist Left party. Also in the running is the anti-immigration Alternative for Germany, though its leadership has said they don't expect to be asked to join the next government.
German elections traditionally produce coalition governments, and the Social Democrats are weary of being Merkel's junior partner, a role they've played for eight of her 12 years in office, including the last four.
"The exciting contest is for third place," Bild quoted Lindner as saying in an interview. "That will be the measure of the message that emerges from this Bundestag election."
Before it's here, it's on the Bloomberg Terminal.
LEARN MORE