Kenyans Retreat Behind Closed Doors on Poll-Violence Fears
By and
President Kenyatta seeks second term in race against Odinga

Fears of violence rise after murder of election official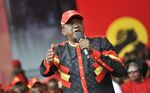 Carolyne Jideyi struggled to carry two bags of groceries at the Toi open-air market in Nairobi, as she joined hundreds of thousands of residents over the weekend in a last-minute shopping spree before Tuesday's tightly contested election.
"You never know what is going to happen after elections," said Jideyi, a 34-year-old mother of three. "The market may close and we need to eat."
On Monday, the streets of Kenya's notoriously traffic-jammed capital were eerily quiet as some residents headed off to their home villages to vote and others remained in their houses fearing an eruption of violence after the elections, pitting President Uhuru Kenyatta, 55, against former Prime Minister Raila Odinga, 72, in a tight race.
Read more on what's at stake in the elections here
Elections are fraught times for Kenyans, with memories still fresh of a disputed vote in 2007 that triggered two months of bloodshed and left 1,100 people dead in East Africa's biggest economy. Nerves have been further frayed by the murder of a key election official last week and opposition warnings that violence may erupt if the ballot is rigged.
"There is definitely a huge upsurge of people shopping; the lines have been extraordinarily long at the tills," said Hanif Rajan, director of operations at closely held Chandarana Foodplus. "The shopping has been mainly panic buying for the essentials: milk, bread and the like. It is frenzy, kind of feeding on each other's rumors of potential shortages and violence."
Ethnic Voting
With little difference between Kenyatta and Odinga's election manifestos -- both pledged to accelerate economic growth, create jobs and provide free education -- voters are likely to cast their ballots along ethnic lines. Kenyatta is a member of the Kikuyu community, the largest in Kenya, while his running mate and William Ruto is a Kalenjin, the fourth-largest group. The leadership of Odinga's five-party National Super Alliance represents five communities, including the Luhya and Luo, the second- and third-largest ethnic groups.
Kenyatta and Odinga need a strong voter turnout to secure victory, with three opinion polls this week showing the incumbent has the support of as many as 48 percent of the electorate and the opposition leader with as much as 49 percent.
Odinga's alliance has repeatedly accused the authorities of plotting to rig the vote. The transmission of results from more than 11,000 polling stations may be delayed due to "poor network signals," the Independent Electoral & Boundaries Commission said on Sunday. That represents more than a quarter of the 40,883 locations where polling will take place.
Offices Raided
About 15 people wearing balaclavas raided one of the opposition's offices in Nairobi on Aug. 4 and confiscated laptops, computer servers and cameras, the party said.
While the police denied responsibility for the raid, four foreigners working for the opposition's IT department were arrested and subsequently deported, the Nairobi-based Standard newspaper reported. An American and a Canadian were detained and deported, the U.S. embassy in Kenya said on Twitter.
If Odinga and his opposition alliance lose, they'll probably allege vote tampering, according to Ahmed Salim, vice president at research firm Teneo Strategy in Dubai.
"It is almost certain that the election result will be contested with speculation of vote rigging fueling violent reactions by supporters of the opposition and incumbents, regardless of the final result," he said in an emailed note.
Before it's here, it's on the Bloomberg Terminal.
LEARN MORE