Your Evening Briefing
Bloomberg News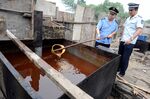 The evening briefing will soon be available in your inbox every day. To be among the first to get it, sign up here.
Over the past decade, China's food industry has become a hotbed of corruption, counterfeit and contamination. From melamine-laced baby formula to synthetic eggs and rat-meat passed off as lamb, the scourge of fake food has fast become a global problem costing the industry up to $40 billion a year. As well as boots on the ground spying on manufacturers, new high-tech ways of tracking production processes have emerged, and services that help companies minimize the risk that food fraud poses are a big growth area. But the challenges for China are vast, thanks to its size, population and administrative divisions.  The food fight has only just begun. — Alex Millson
Developer of $100 billion Malaysia city looks beyond Chinese buyers. The builder said it was looking to attract customers in Thailand and Vietnam after some Chinese investors in the Forest City project, in the south of Malaysia, pulled back. China's escalating crackdown on capital outflows this year has spooked buyers looking for property abroad, with some reconsidering past purchases and others holding off on new ones. 
Singapore's worst-performing stock has become its best. Yangzijiang Shipbuilding, which specializes in dry-bulk carriers, has rallied 83 percent in 2017 to lead the benchmark Straits Times Index. The Chinese shipbuilding firm made a comeback after winning 13 contracts worth $318 million in the first quarter of 2017, about 40 percent of the $823 million worth of orders it won last year.
Southeast Asia emerges as global growth leader. ASEAN has much to crow about as it marks its 50th anniversary: economic and social progress, a manufacturing powerhouse and relative political stability. With a combined population of over 620 million and an economy of $2.6 trillion, the investment potential is huge and by 2020, the region will have the world's fifth largest economy, the World Economic Forum predicts.
Disgruntled $16-a-day earners could decide Malaysian PM's fate. How well Prime Minister Najib Razak addresses bread-and-butter issues will help determine an election that could come as early as this year. At stake is the unbroken rule for 60 years of Najib's United Malays National Organisation and the coalition it leads. But rising living costs have led many Malaysians to feel less secure, and that could translate into a voter backlash.
Australia's biggest bank blames a coding error for money-laundering lawsuit. Commonwealth Bank said software was to blame for 50,000 alleged breaches of money-laundering and terrorist-financing laws — an error that went undetected for three years. In its first detailed response since being sued by the country's financial crime agency, which also claimed the bank failed to monitor suspected money laundering even after being alerted by law enforcement agencies, the bank said, "mistakes can be made."
Saudi Arabia is building cities in the sand to move the economy on from oil. The kingdom is converting thousands of square kilometers of sand into new cities as it seeks to diversify away from crude, create jobs and boost investment. In the past month alone, the world's biggest oil exporter has announced two major developments — one covering an area bigger than Belgium and another that will include an airport and shipping port. Take a look at some of the biggest projects here.
Why adults without kids are obsessed with Disney cruises. Joanne and Gerald "John" Gerrity, booked their 100th Disney cruise in September. And they're not sailing with young children. For that matter, they're not sailing with children at all. Here's why grownups are increasingly taking to the seas on Disney's cruise ships — without the kids.

Before it's here, it's on the Bloomberg Terminal.
LEARN MORE