Wooing Angry Millennials in Kenya's Cliffhanger Vote
By and
More than half of nation's registered voters are under 35

Urban youth likely to back opposition, says analyst Gordon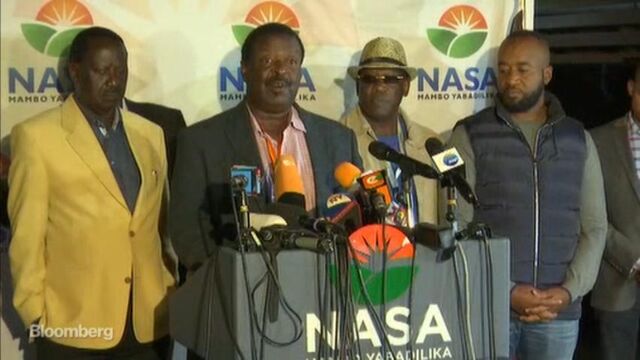 Having watched Kenya's economic boom pass him by, security guard Frederick Kibaraza is skeptical whether there's any point voting in Tuesday's cliffhanger elections.
"I am not falling for the ideas of politicians," Kibaraza, 27, said as he strolled along a dusty street near his home in Kawangware, a slum in the capital, Nairobi. "We vote for them and they go there and benefit themselves. Somebody driving a Toyota Corolla, we vote for them and after one year you see him with a Range Rover, a Mercedes-Benz." 

The average age in Kenya is just 19 and with more half of the 19.6 million registered voters aged under 35, Kibaraza and his contemporaries have the power to determine the outcome of a presidential contest that could go either way. While both incumbent President Uhuru Kenyatta, 55, and former Prime Minister Raila Odinga, 72, have gone all-out to woo young voters, their biggest challenge will be to overcome political apathy.
They're vying to lead a country that ranks among the five biggest economies in sub-Saharan Africa, is the world's biggest exporter of black tea, and is a regional hub for companies including Google Inc. and Coca-Cola Co.
Voting got underway at 6 a.m. local time and is scheduled to end at 5 p.m. Electoral authorities are expected to start announcing results later tonight. Kenyatta and Odinga urged voters to turn out in large numbers as they cast their ballots earlier on Tuesday.
Ndung'u Wainaina, executive director at the Nairobi-based International Center for Policy & Conflict, expects the opposition to be the main beneficiary of young voters' discontent over a dearth of economic opportunities.
"Theirs' will likely be a protest vote against the conservatives," he said. "If the youths want, they can become the actual determinants of the vote if they choose to come out to vote en masse."
Corruption Scandal
Odinga has said he'll uplift Kenya's youth by raising living standards and stamping out corruption, while Kenyatta's campaign pledges include creating 1.3 million jobs a year and increasing access to free education at state schools. A vow the president made during his 2013 campaign to revitalize the National Youth Service, which works to teach skills and provide jobs, went awry when an official probe found that civil servants conspired with contractors to allegedly embezzle at least 1.8 billion shillings ($17.3 million) from the state-run agency.
While East Africa's largest economy has grown an average of 5.7 percent a year since Kenyatta took office in 2013, almost half the 47-million population lives on less than $2 a day and the unemployment rate is about 40 percent. The government doesn't break the data down by age, though a survey published last year by Alex Awiti and Bruce Scott of Aga Khan University showed 55 percent of 1,854 respondents aged 18 to 35 didn't work and 63 percent of them ranked the lack of jobs as their biggest concern.
There are eight contenders in the presidential race. Three polls released Aug. 1 show Odinga, who leads a five-party coalition known as the National Super Alliance, is favored by between 44 and 49 percent of the electorate, while Kenyatta has 47 to 48 percent backing. A candidate needs 50 percent plus one vote and a quarter of ballots in more than half of Kenya's 47 counties to win and avoid a runoff.
Andrew Barasa, 25, who operates a motorcycle taxi, known locally as a boda boda, is among those who want Kenyatta to go.

"The government is bad, it is not looking at young people," Barasa said as he sat waiting for customers in Kibera, another Nairobi slum. "There are no jobs. There are no customers. Life is hard."
John Auka, 25, who works as plumber in Kibera, doesn't see the opposition living up to its campaign promises and wants to keep the status quo.
"I love Jubilee," he said. "Raila has been the MP for Kibera for 24 years and changed nothing."

While politicians' personalities and ethnic loyalties have traditionally been one of the key determinants of voting patterns, the youth vote isn't a homogeneous one and is likely to vary according to where they live, said Emma Gordon, an analyst at Bath, England-based Verisk Maplecroft.
"In rural areas, the pressure to vote along ethnic lines is still incredibly strong," she said. "In urban areas, they are more likely to vote based on policy issues, primarily the perception that socioeconomic conditions have not improved under Jubilee. This group is therefore likely to favor Odinga's candidacy."
Kenyatta is a member of the Kikuyu community, the largest in Kenya, while his running mate William Ruto is a Kalenjin, the fourth-largest group. The leadership of the main opposition alliance represents the Luhya and Luo, the second- and third-largest ethnic groups respectively, as well as the Kamba and some of the Kalenjin people.
Kibaraza, the security guard, will back a candidate he thinks more likely to better the lot of the youth and the poor, if he decides to vote.
"We are struggling," he said. "We are living on hope that one day they will care about us."
— With assistance by Samuel Gebre
Before it's here, it's on the Bloomberg Terminal.
LEARN MORE