Chicago Sues Sessions Over Funding Cut for Sanctuary Cities
By and
City claims new rules 'fly in the face' of longstanding policy

San Francisco, Santa Clara won earlier ruling blocking order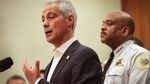 Chicago sued U.S. Attorney General Jeff Sessions over his threat to withhold federal funding from cities that don't cooperate with the Trump administration's crackdown on undocumented immigrants. Sessions lashed back, saying the city was beset by a "culture of lawlessness."
The Justice Department's decision to impose "sweeping conditions" on Chicago and other cities if they don't police federal immigration violations is "unauthorized and unconstitutional," the city claimed in a complaint filed Monday. The suit comes just days after the Justice Department released new conditions for cities to qualify for a grant that provides states and cities with funding for local law enforcement.
The new conditions "fly in the face of longstanding city policy that promotes cooperation between local law enforcement and immigrant communities," Chicago said in the complaint.
The lawsuit is the latest to challenge the Trump administration's attack on illegal immigration. Earlier this year, the city and county of San Francisco and the county of Santa Clara, California, won a temporary ban on enforcement of most of Trump's Jan. 25 executive order threatening to withhold funds from localities that don't cooperate.
To qualify for the federal grant, called the Edward Byrne Memorial Justice Assistance Grant, cities and states are now barred from imposing restrictions on the sharing of local immigration status information with the U.S. government. They must also provide the Department of Homeland Security with unlimited access to police stations to interrogate those arrested, and give at least a 48-hour notice before the release of someone suspected of immigration violations.
Last year, Chicago received $2.3 million under the grant. Chicago's budget for 2017 is $9.8 billion. The city received about $1.26 billion in total federal funding in 2016 and expects that increase to $1.59 billion this year.
'Comply or Forego'

"It's simple," Sessions said in a statement. "Comply with the law or forego taxpayer dollars," he said, adding that Chicago needs a "recommitment to the rule of law and to policies that rollback the culture of lawlessness that has beset the city."
"To a degree perhaps unsurpassed by any other jurisdiction, the political leadership of Chicago has chosen deliberately and intentionally to adopt a policy that obstructs this country's lawful immigration system," he said. "This is astounding given the unprecedented violent crime surge in Chicago, with the number of murders in 2016 surpassing both New York and Los Angeles combined."
In its suit, Chicago wants a federal judge in Chicago to declare the new conditions unlawful.
"These conditions effectively federalize local detention facilities and violate the Fourth Amendment in instances where detainees are otherwise lawfully eligible for release from police custody," the city said in its press release.
— With assistance by Kartikay Mehrotra, and Chris Strohm
Before it's here, it's on the Bloomberg Terminal.
LEARN MORE