CBS Bucks Advertising Downdraft With Gains From NCAA Finals
By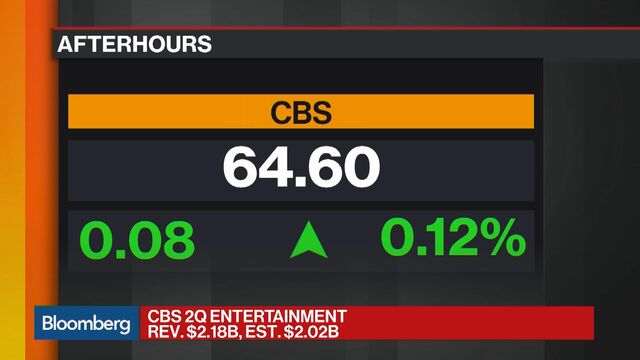 CBS Corp. bucked the tough advertising climate that hit competitors, benefiting from its broadcast of college basketball's national finals.
Advertising sales at CBS rose 4.3 percent in the second quarter, the owner of the most-watched U.S. TV network said Monday in a statement. That follows drops or underwhelming forecasts from Time Warner Inc., Sinclair Broadcasting and Viacom Inc.
Led by Chief Executive Officer Les Moonves, CBS has reduced its reliance on advertising by increasing the fees it collects from pay TV services, expanding online and generating more revenue by selling shows in international markets or for reruns in the U.S. The company last week hired former a Facebook and Univision executive to boost online ad sales.
Profit for the second quarter rose to 97 cents a share, excluding some items, compared with the 96-cent average of analysts' estimates compiled by Bloomberg. Revenue grew 9.4 percent to $3.26 billion, exceeding Wall Street projections of $3.09 billion. CBS is selling its radio division to Entercom Communications Corp.
With live viewership of traditional TV in decline, CBS has repositioned itself by creating paid online versions of its two main TV networks, CBS and Showtime. The company said Monday combined subscribers to those two services would surpass 4 million this year.
CBS also said it's taking CBS All Access, the online version of its broadcast network, to international markets next year, starting with Canada.
Response to Netflix
"When you see Netflix getting 50 million international subscribers, you say 'Gee that marketplace is so huge there's a way to have our cake and eat it too.'" Moonves said on a call with investors. He dismissed concerns that offering shows on All Access outside the U.S. may jeopardize the sale of programs to foreign TV networks. Revenue from content licensing grew 12 percent in the second quarter.
Though its viewers are among the oldest on TV, CBS has been among the most aggressive in creating online services. CBS operates a 24-hour online news network, CBSN, and on Monday announced plans to create a similar network for sports. It's also offering the Floyd Mayweather-Conor McGregor fight on a direct-to-consumer basis through its Showtime pay-per-view app.
The company said earlier Monday it secured placement for its main TV network on DirecTV Now -- the online version of the satellite TV service. It's already on web TV packages sold by Hulu Inc. and YouTube. Newer online packages pay CBS more than traditional TV providers. Fees from pay-TV operators and affiliate stations increased 16 percent, CBS said.
CBS was little changed in extended trading. The stock rose 1.4 percent to $64.52 at the close in New York and is up that same percentage so far this year.
Before it's here, it's on the Bloomberg Terminal.
LEARN MORE