CEO Loses Bonus as Commonwealth Bank Fights Laundering Suit
By
Senior executives also lose bonus; directors' fees slashed 20%

Narev retains 'full confidence' of the board, chairman says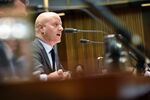 Commonwealth Bank of Australia Chief Executive Officer Ian Narev has been stripped of his short-term bonus as the lender battles to contain the fallout from allegations it breached money-laundering and terrorist-financing laws more than 50,000 times.
The board decided to scrap short-term bonuses for Narev and other senior executives after "consideration to risk and reputation matters impacting the group," Chairman Catherine Livingstone said in a statement Tuesday. "The overriding consideration of the board was the collective accountability of senior management for the overall reputation of the group."
Narev received a A$2.86 million ($2.26 million) short-term bonus in the fiscal year ended June 30, 2016, as part of total remuneration of A$12.3 million, according to the lender's annual report. Full details of his pay for last fiscal year will be published Aug. 14. The 50-year-old, who has led the bank since December 2011, "retains the full confidence of the board," Livingstone said.
The allegations from the country's financial crime agency of "serious and systemic" non-compliance with money laundering financing laws threaten to overshadow the bank's full-year results Wednesday, when Narev is forecast to report a record A$9.8 billion profit.
Read more: A preview of Commonwealth Bank's earnings
"We think CBA are losing the fight in the court of public opinion," CLSA banking analyst Brian Johnson wrote in a note to clients on Monday.
The country's financial crime agency, Austrac, sued the bank Aug. 3, saying it failed to report on time or at all suspicious transactions totaling more than A$624 million. Commonwealth Bank also failed to monitor suspected money laundering even after being alerted by law enforcement agencies, Austrac claimed.
The lender has blamed a software coding error for most of the alleged breaches.
The case adds to a string of scandals in the banking industry, from giving poor advice to wealth-management customers to allegations the nation's three other biggest banks manipulated a benchmark swap rate.
"The latest Austrac revelations add to a list of very serious crises for CBA in recent years so pulling executive bonuses under these circumstances seems reasonable," said Julie Walker, a corporate governance specialist at University of Queensland business school. 
Director Fees
Non-executive director fees will also be cut by 20 percent this year in recognition of the board's "share accountability," Livingstone said.
"I don't think this whole 'fire the CEO thing' is the right response every time something goes wrong," said Steve Johnson, chief investment officer at Forager Funds Management, which oversees A$330 million. "But he should get paid substantially less because of it."
Narev is not the first Australian chief executive to cop a financial hit this year. QBE Insurance Group Ltd. in February docked A$550,000 from CEO John Neal's bonus for his failure to disclose a relationship with his personal assistant in a timely fashion.
Senior executives at gaming company Tabcorp Holdings Ltd., which in March agreed to pay A$45 million to settle 108 breaches of money-laundering rules, chose to forgo their bonuses, the company said Aug. 4.
Commonwealth Bank shares have fallen more than 4 percent since Austrac filed the court case Aug. 3.
"While it is very, very disappointing and the heat is rightly on the CEO, they are dealing with it the right way," said George Boubouras, chief investment officer at Contango Asset Management, which holds Commonwealth Bank shares. "They're showing empathy and putting processes in place."
Before it's here, it's on the Bloomberg Terminal.
LEARN MORE