Balance of Power: Macron Has a Plan for Google, Growth and Taxes
By and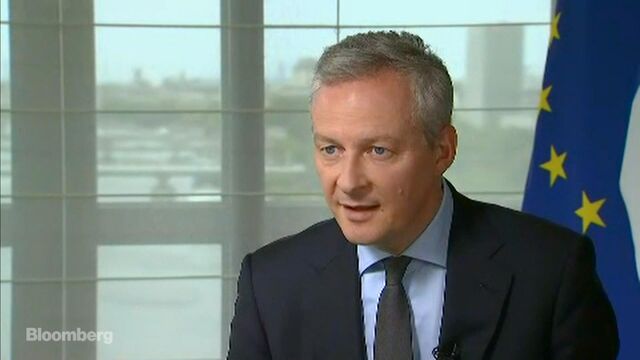 Emmanuel Macron's economic agenda is starting to take shape.
With his approval ratings falling below 40 percent amid criticism that he is too aloof, the French president is looking to chalk up wins and recover some of the glow of his stunning election victory three months ago.
The 39-year-old former investment banker has already showed his willingness to protect jobs by embracing old-fashioned state interventionism after he blocked an Italian takeover of a French shipyard last month.
As Bloomberg's interview today with his finance minister, Bruno Le Maire, reveals, Macron also wants to crack down on tax avoidance by Google, lure investment by cutting corporate tax rates and reform the architecture that supports the euro currency.
Germany is central to Macron's strategy, but the question is whether his mission to woo Angela Merkel will alienate other European partners. He has already upset Italy, and Le Maire's comments about tech giants and corporate taxes may leave the Irish feeling uncomfortable as well.
Le Maire counters that it's time for Europe to stand up for itself after years of introspection.
"Europe must learn to defend its economic interests," he said. With business confidence at a six-year high, executives seem to agree with him.

Sign up to receive the Balance of Power newsletter in your inbox, and follow Bloomberg Politics on Twitter and Facebook for more.
Global Headlines
Testing Kelly's gag order | John Kelly's bid to assert control over the White House's message is already encountering some headwinds. Trump's new chief of staff held a meeting with about 200 White House staffers on Friday imploring them to act as one team, according to Bloomberg's Jennifer Jacobs and Margaret Talev. But stories about conflicting personal agendas in the West Wing are never far from the surface. Vice President Mike Pence on Saturday was forced to dispute a New York Times report that he's preparing for a tilt at the presidency in 2020 if Trump doesn't run.
Trump's Republican inquisitor | Trump may have annoyed the wrong man in Senate Judiciary Chairman Chuck Grassley. The plain-spoken Iowan with a strong Twitter following of his own was irritated with the administration's initial failure to respond to requests for information as he investigates Russian meddling in last year's election. Watch to see if the veteran Republican makes good on his threat to subpoena the president's associates -- including Donald Trump Jr.
The Brexit Bill | Just weeks ago, Foreign Secretary Boris Johnson was saying the European Union could "go whistle" if it expected the U.K. to pay a large financial settlement. Now reports are emerging that the British are prepared to pay €40 billion ($47 billion) to get out of the bloc. Not so fast, says the government. Prime Minister Theresa May's office today declared such stories speculative and leading Brexit supporters rejected any notion of a payment.
Kenya's "hush-hush" currency tactics | As Kenya gears up for tomorrow's elections, traders have been feeling the pressure from a central bank that only wants good news about the country's currency, the shilling. As Adelaide Changole writes, the intimidation tactics come amid mounting concern that violence could follow the vote, sparking a currency selloff in a country that's a crucial regional hub for companies including Google, IBM, Toyota and Coca-Cola.

More chaos in Venezuela | President Nicolas Maduro yesterday claimed to have crushed a "terrorist attack" on a military base by so-called "mercenaries." Analysts questioned details of the alleged incident, which could not be verified by any independent media. It took place one day after Maduro's newly convened assembly to rewrite the constitution ousted the country's chief prosecutor, one of the government's harshest critics.
Pressuring North Korea | Kim Jong Un's regime condemned the latest round of United Nations-backed sanctions, saying it won't sit down to negotiate its nuclear program until the U.S. ends its "hostile" policies. The UN's most severe measures to date were backed by China, which wants to stave off pressure from Trump to do more to rein in North Korea.
And finally... It's August, which means it's time for Vladimir Putin to take his shirt off for another macho holiday adventure. Photos and video released by the Kremlin this weekend showed the 64-year-old president soaking up the rays and swimming in a chilly Siberian lake before donning a camouflage wetsuit to go spearfishing. A GoPro camera attached to his snorkel mask captured the underwater action as he pursued his prey, spearing a large pike after a two-hour chase. Later, he reels in fish after fish with a rod, each bigger than the last. Needless to say, Russian media gave it blanket coverage.

Before it's here, it's on the Bloomberg Terminal.
LEARN MORE