Mauritanians Back New Constitution Seen Boosting Leader's Power
By
New charter provides for abolition of elected Senate

New regional councils will enhance economic development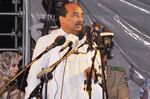 Voters in Mauritania approved changes to the West African nation's constitution in a poll that was boycotted by the opposition and is likely to tighten President Mohamed Ould Abdel Aziz's hold on power.
Key elements of the new charter include the replacement of an elected Senate with regional councils and modifying the flag. Senators voted against the proposals in March.
The abolition of the senate was approved by 85.7 percent of voters in Saturday's referendum, Abdallahi Ould Soueid Ahmed, president of the Independent National Electoral Commission, told reporters Sunday in the capital, Nouakchott. Turnout was 53.7 percent. Changes to the flag and national hymn were approved by 85.6 percent of voters.
"The plan to abolish the Senate gives the impression that Abdel Aziz wishes to remove any potential obstacles to modifying the constitutional two-term presidential limit, which prevents him from serving beyond 2019," Sean Smith, an analyst for Africa at global risk consultancy Verisk Maplecroft, said in an emailed note.
"Currently, any such amendment would require two-thirds support in both chamber of parliament. Unlike the rubber stamp National Assembly, the Senate cannot be relied upon to endorse the president's plans."
The new regional councils will enhance economic development and governance, Abdel Aziz said during his campaign. The FNDU, as the opposition coalition is known by its French acronym, and Islamist groups say that Abdel Aziz hasn't fulfilled promises made after he came to power in a 2008 coup, including the appointment of opposition members to the cabinet.
Mauritania, a nation of 4 million and the continent's biggest iron-ore exporter after South Africa, has never had a peaceful transfer of power between elected presidents in the past five decades.
Before it's here, it's on the Bloomberg Terminal.
LEARN MORE