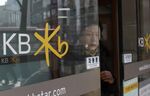 Only a brave investor would bet against South Korean banks this year.
They've been market darlings in Asia since January, with the nation's four large commercial lenders -- Shinhan Financial Group Co., KB Financial Group Inc., Hana Financial Group Inc. and Woori Bank -- posting share-price gains ranging from 19 percent to 62 percent. 
President Moon Jae-in's actions to cool South Korea's sizzling property market took some shine off last week. For the second time since he assumed office in May, Moon announced real-estate measures, mainly targeting Seoul. Home buyers in the capital will be prevented from borrowing more than 40 percent of a property's value, and mortgage payments will be capped at 40 percent of a home buyer's annual income.
This new policy was "stronger medicine than expected," Morgan Stanley analysts said, putting it politely.
Zoom out a little, however, and it's hard to see how effective Moon's measures can be. He's viewed as the reflationary guy, which is great news for asset prices. Home prices in Seoul stabilized after last November's first crackdown, but took off again as soon as Moon won the presidency, while the steps he announced on June 19 seem not to have had much impact at all.

Meanwhile, commercial banks, which use customer deposits to provide longer-term loans, can make money again when reflationary expectations steepen the yield curve. Bank of Korea is expected to follow the U.S.'s suit and raise benchmark rates 25 basis points to 1.5 percent by December 2018.

There's already evidence that reflation is working in the banks' financials. The nation's commercial lenders all saw strong earnings beats for the first two quarters.

Take KB Financial, whose second-quarter earnings wowed the street last month. Its improvement in fundamentals is clear. Net interest margins, the key metric used to evaluate a bank's profitability, continued to expand, thanks to the rise in market interest rates. Loan growth accelerated, climbing 1.9 percent from the first quarter, mainly due to a 5.2 percent uptick in the small-to-medium-business loan book, which Moon is encouraging.

Even if Moon's property cooling measures do work, it won't be hard for banks to beat estimates in the second half, considering analysts have already penciled in slower retail loan growth. Morgan Stanley sees housing loans expanding only 4.5 percent to 5 percent this year; as of the end of June, they'd increased 3.3 percent.
Don't forget foreigners' heavy influence here, also: Offshore money managers own about 70 percent of the big three commercial names, excluding Woori Bank. The lure's obvious when you consider the won's 7.4 percent gain against the dollar this year, and lenders' undemanding valuation of 7 to 8 times forward earnings.
At any rate, it seems the rally in South Korean banks isn't done yet.
Before it's here, it's on the Bloomberg Terminal.
LEARN MORE