Gary Cohn Takes a Brief Trump Break at Hamptons Party for Pink
By
Former Goldman Sachs president is benefit co-chair with wife

Mnuchin's roomie also at benefit for breast cancer research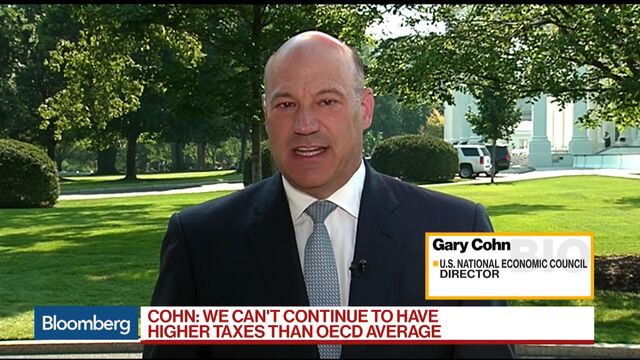 White House economic adviser Gary Cohn has been the talk of Washington and Wall Street lately amid conjecture he's positioning himself to run the Federal Reserve. But he still found time Saturday to kick back.

The former Goldman Sachs president reappeared on the Hamptons social scene that he had long inhabited before joining Donald Trump's administration -- attending the Breast Cancer Research Foundation's Party for Pink in Bridgehampton with his wife, the artist Lisa Pevaroff-Cohn and daughter Chelsea Cohn, a senior at Brown University.

"I'm supporting an amazing cause, I'm supporting my wife and I'm supporting these great New York women," Cohn said. He declined to comment on the Federal Reserve position but confirmed that even at the party he was on duty.
"I haven't had a phone call in an hour," Cohn said. He gestured to his pockets. "I have White House phones, I'm working. No one's on vacation in the White House."

Still there were distractions: Cohn checked out the paddle board his wife made for auction, with pink flowers and gold and silver flourishes. It went for $6,900. A paddle board race is held in the morning of the event. Cohn also petted the faux-fur creatures on House of Fluff's paddle board that went for $3,050.
Loews Corp. co-chairman Jonathan Tisch and Jon Gray, of Blackstone Group, were among the 700 guests who filled a tent decorated with a subtle luau theme: pineapples, palm fronds and a poke bar. Cohn was more interested in the pasta bar, collecting a bowl of rigatoni with red sauce to bring back to the family's lounge area right off the dance floor.

There he got to watch Questlove spin, Taylor Dayne belt hits, Ryan Seacrest emcee -- and collect a kiss from Lisa Klein of the jeweler de Grisogono, who had outfitted his wife in earrings and a watch for the evening. Cohn wore a Rolex and an onyx bracelet with skull beads that his wife made.
The Cohns have long supported the event founded by Wall Streeters-turned-Hamptonites Maria Baum and Richard Perry. Another Goldman Sachs alum in the mix is Edward Lampert, the college roommate of Treasury Secretary Steve Mnuchin. Lampert's wife, Kinga, is co-chairman of the Breast Cancer Research Foundation. The Lamperts co-chaired the event with the Cohns and Bippy and Jackie Siegal.
In its first five years, the annual benefit raised almost $7 million. This year's event was seeking to raise more than the $1.9 million set in 2016. Baum said the Cohns were the lead benefactors.
In the past, Cohn has volunteered to help out at the morning paddle-board race and joined the evening party where guests have included Gwyneth Paltrow and Lena Dunham. This year, he again adhered to the favored dress code at the party by wearing a pink shirt paired with white pants, white driving shoes and a pink cashmere sweater.
Before it's here, it's on the Bloomberg Terminal.
LEARN MORE