Trump Attempts to Blunt Speculation McMaster Has Lost Favor
By
President in statement says the two work well together

Trump praises McMaster and said general is 'pro-Israel'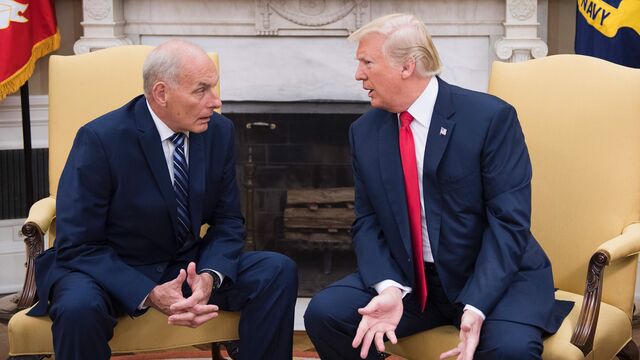 U.S. President Donald Trump sought to defend his National Security Adviser H.R. McMaster against conservative media attacks that have led to speculation that the three-star Army general's job was on the line.

Trump, in a White House statement issued Friday night, attempted to blunt any notion that McMaster had lost favor with the president and was on his way out.
"General McMaster and I are working very well together," Trump said. "He is a good man and very pro-Israel. I am grateful for the work he continues to do serving our country."
The statement came as it appears that McMaster is being given more power to shape the National Security Council under the installation of Trump's new Chief of Staff John Kelly, a retired Marine Corps general who officially started in the job on July 31.
Conservatives loyal to Trump's first national security adviser Michael Flynn -- who was fired for lying about his meeting with Russians during last year's election -- have chastised McMaster for shouldering aside some of Flynn's hand-picked deputies and for assuming more conventional foreign policy positions.
On Wednesday, the White House said an NSC staff member caught up in a controversy over the release of intelligence material to a member of Congress is leaving his job. McMaster had previously sought to remove Ezra Cohen-Watnick, a Flynn ally who led the NSC's intelligence directorate, but had been blocked by other senior advisers to Trump, mainly chief strategist and former Breitbart News executive Stephen Bannon.
White House officials said that Jared Kushner, the president's son in law and senior adviser who has worked closely on Mideast peace efforts, is standing beside McMaster.
Kushner told the New York Times he sees McMaster as a "tremendous asset" who has helped to ensure the president gets "credible options" on foreign policy.
Before it's here, it's on the Bloomberg Terminal.
LEARN MORE