markets
Russian Markets Shrug Off New U.S. Sanctions
By
Stocks climb as HSBC says sanctions 'likely to be limited'

S&P says no immediate implications for credit ratings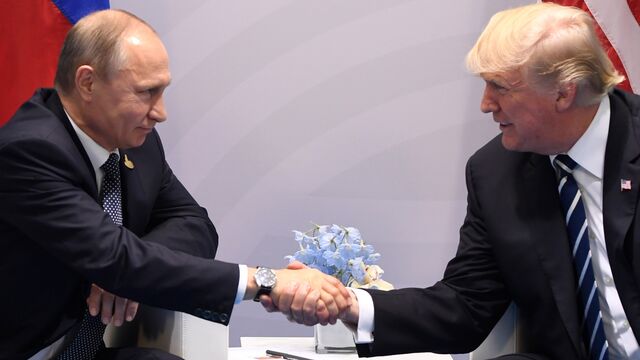 Now that U.S. sanctions are enshrined in law, Russian markets are on the rise.
After taking a battering in the past two months amid a U.S. push to toughen sanctions, Russian bonds, stocks and the ruble showed signs of recovery this week as Donald Trump reluctantly put his name to the penalties on Wednesday and oil climbed. Russia's benchmark stock index is heading for its best week since April, bond yields are edging lower and the cost to insure debt against default reached a two-month low.
The law, signed by Trump on Wednesday, strengthens punitive measures imposed over Russia's intervention in Ukraine and meddling in last year's U.S. presidential election, and gives Congress the power to block Trump from lifting them. Russian Prime Minister Dmitry Medvedev described the bill as "a declaration of fully-fledged economic war" that could last for "decades" in a Facebook post.
Read: Russia Warns of Worsening U.S. Ties, Criticizes Trump 'Weakness'
Analysts from HSBC Bank Plc and Credit Suisse Group AG said in research notes this week that the political risk is mostly priced in, creating a buying opportunity. Citigroup Inc. warned that the penalties are "reflective of an increasingly difficult relationship between Washington and Moscow," taking a structural toll on sentiment.
Here's a snapshot of Russian markets the day after Trump signed the bill:
Stocks Rebound
Russia's benchmark stock index advanced on Thursday and is heading for a 2.7 percent gain in the week, the biggest jump since April. The fundamental impact of the new sanctions is "likely to be limited" and has already been discounted, while damage to sentiment should gradually dissipate, HSBC analysts led by John Lomax say in an emailed note.

Default Risk Drops
The cost of insuring Russian sovereign debt against default fell for a third day on Thursday, dropping to 157 basis points, the lowest in almost two months. The price of the five-year credit-default swaps jumped in June when the U.S. senate voted to expand sanctions. S&P Global Ratings said on Thursday that the new sanctions have "no immediate implications" for Russia's sovereign credit ratings, which continue to be supported by "strong external and fiscal balance sheets."

Bonds Stabilize
Yields on the Russian government's ruble bonds maturing in 10 years dropped five basis points on Thursday to 7.80 percent. The debt has stabilized this month after underperforming most emerging markets in June and July when borrowing costs surged. Many investors across the world "remain comfortable" with exposure to Russia despite the noise in Washington, analysts at Credit Suisse said in a research note.
Ruble 'Undervalued'
The ruble advanced 0.4 percent on Thursday, the most in emerging markets. The currency has been hit hard by the sanctions fallout, sliding more than 5 percent in the past three months. That's left it the most undervalued among commodity-exporting peers, according to UBS Group AG's Behavioral Equilibrium Exchange Rate model, which gauges whether a currency is fairly priced using real exchange rates and economic fundamentals.

Before it's here, it's on the Bloomberg Terminal.
LEARN MORE