markets
Huntsman's Venator Climbs in Trading After $454 Million IPO
By and
Shares rise as much as 6.7 percent on first day of trading

Huntsman to get $720 million dividend to pay down debt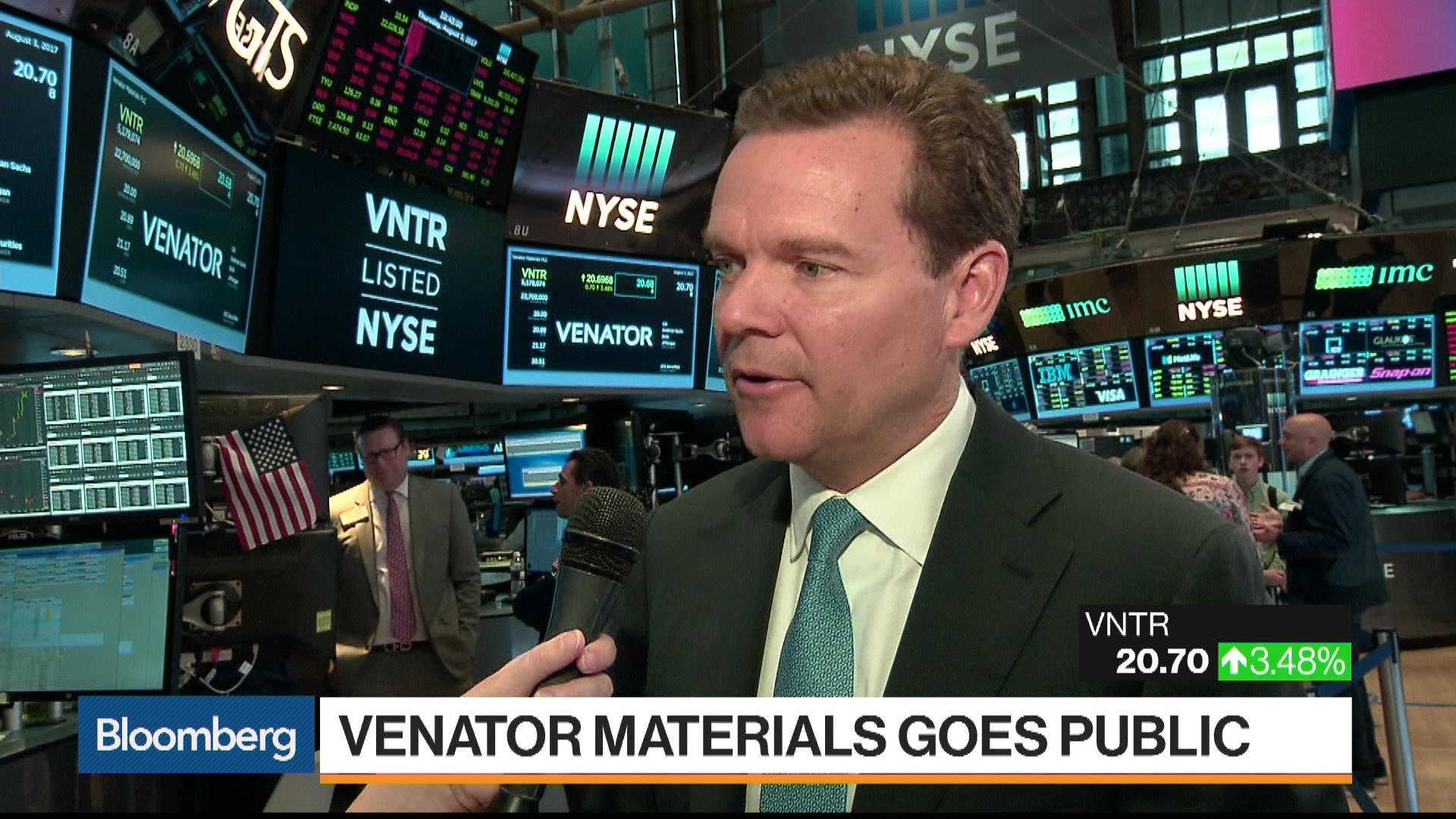 Venator Materials Plc, the paint-pigment maker spun off by Huntsman Corp., climbed in its trading debut after raising $454 million in its initial public offering.
After rising as much as 6.7 percent, shares were up 4.4 percent to $20.87 at 2:47 p.m. Thursday in New York. Huntsman sold 22.7 million shares of Venator for $20 each Wednesday, at the bottom of the $20 to $22 marketed price range.
Proceeds from the sale will go to the parent company, which planned to hold about 79 percent of the stock after the IPO, Venator said in a regulatory filing last month. Venator is also taking on a loan, which will be used to pay a $720 million dividend to its former parent, Huntsman Chief Executive Officer Peter Huntsman said Thursday in an interview. The Venator proceeds will be used by Huntsman to pay down $1.1 billion of debt, he said.
Venator, which makes the paint ingredient titanium dioxide, was formed when Huntsman acquired Rockwood Holdings Inc.'s pigment unit for $1 billion in 2014 and combined it with its own business. With 106.3 million shares outstanding, Venator's market value rose by about $100 million on its first day of trading, to more than $2.2 billion.
After losing $352 million in 2015, Venator cut its net loss to $77 million last year on slightly lower revenue of $2.3 billion, according to its IPO filing.
Huntsman, based in The Woodlands, Texas, agreed in May to be acquired by Swiss chemical producer Clariant AG for $6.4 billion. That deal has been assailed by U.S. investors Corvex Management and 40 North Management, known collectively as White Tale Holdings, which have taken a stake in Clariant. They're working together to push the Swiss chemical company to explore alternatives to the deal.
Volatile Business
"After having met with most of the large shareholders on the Clariant side and on the Huntsman side, we see very, very strong support" for the combination, Huntsman said in an interview with Bloomberg TV. "As people better understand the fundamentals -- stronger balance sheet, higher margins, less volatility, less risk, greater global reach -- this is a value-accretive deal from day one."
The paint-pigment business has been volatile historically, according to the CEO, who has said removing Venator from Huntsman's financial statements will help boost the value investors place on the parent's remaining businesses.
One of Venator's biggest competitors, Chemours Co., is also a recent carve-out of a larger chemical company. Chemours shares have more than doubled since it was spun off by DuPont Co. in 2015.
Venator trades on the New York Stock Exchange under the symbol VNTR. Citigroup Inc., Goldman Sachs Group Inc., Bank of America Corp. and JPMorgan Chase & Co. led the deal.
Chemours on Wednesday posted second-quarter profit that beat analysts' estimates as adjusted earnings in the pigment segment surged 74 percent on higher prices.
(
Updates with CEO's comments in third paragraph.
)
Before it's here, it's on the Bloomberg Terminal.
LEARN MORE