Trump Welcomes West Virginia Governor Into Republican Party
By and
Justice said to plan party switch in conjunction with rally

President seeks out supporters as agenda stalls in capital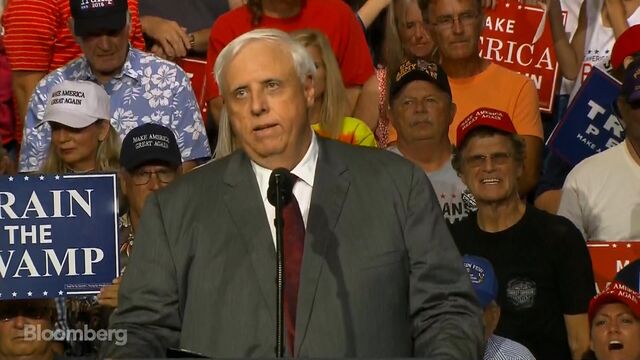 West Virginia's governor announced he's switching from the Democratic to Republican Party during a rally Thursday night with President Donald Trump.
"The Democrats walked away from me," Governor Jim Justice said on stage with Trump at a political rally at the Big Sandy Superstore Arena, in Huntington, West Virginia. "I can't help you anymore being a Democrat governor, so tomorrow I will be changing my registration to Republican."
Justice won office as a Democrat in November, the same election in which Trump won 68 percent of the state's votes. Justice's party-switch is the "very big announcement" Trump promised Thursday at the White House. The state, once a Democratic stronghold, has voted for the Republican candidate in the past five presidential elections.
"Having big Jim as a Republican is such an honor," Trump said.  
Trump's trip to politically friendly territory to talk politics comes as he's struggled with getting his agenda enacted. Congress has left Washington for its summer recess without delivering the legislative victories Trump promised in his campaign. Trump signed a law this week that puts new sanctions on Russia and limits his ability to ease them. It passed with overwhelming majorities in the House and Senate, and Trump called it "significantly flawed" before signing it.
Russia Probe Advances
Meanwhile, the investigation into Russia's meddling in the 2016 election has intensified in recent weeks, with investigators looking into possible ties between Trump's campaign officials and the Kremlin. Special counsel Robert Mueller is using a federal grand jury in Washington to help collect information, according to three people familiar with the investigation.
At the West Virginia rally, Trump decried the probe as part of a conspiracy by Democrats, the media and special interests in Washington.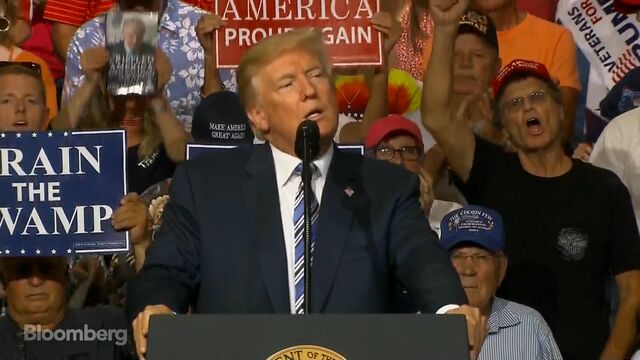 "They're trying to cheat you out of the leadership you want with a fake story that is demeaning to all of us," he said. "The Russia story is a total fabrication. It's just an excuse for the greatest loss in all of American history."
"What the prosecutors should be looking at are Hillary Clinton's 33,000 deleted emails," Trump said. That triggered the crowd to chant, "Lock her up."
"Most people know there were no Russians in our campaign," Trump went on to say. "We didn't win because of Russia, we won because of you."
Before it's here, it's on the Bloomberg Terminal.
LEARN MORE