Remarks
Trump's Counting on a General to Contain White House Chaos
If the president can't figure out how to work with Republicans, the global economy may be at stake.
By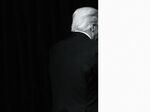 Donald Trump has a habit of projecting his anxieties while trying to mask them. You can sometimes tell what's going on inside the White House by checking the president's Twitter feed—and assuming the opposite of whatever he claims.
Take the recent White House shakeup that abruptly remade his senior staff. On the morning of July 31, Trump fired off a tweet extolling the booming stock market and low unemployment rate and then added, a bit defensively, "No WH chaos!"
This was a sure sign that the chaos inside the White House had reached a fever pitch. Within an hour of Trump's tweet, the president's new communications director, Anthony Scaramucci, who'd been on the job for only 10 days, was sent marching. This followed the sudden firing of Chief of Staff Reince Priebus, which came only days after the resignation of Press Secretary Sean Spicer. Had Attorney General Jeff Sessions not been so determined to cling to his job—Trump called him "beleaguered" and publicly humiliated him for a week—he, too, might have joined the exodus. When Trump tweeted "No WH chaos!" what he was really signaling was "Total WH chaos!"
And yet Republican sentiment toward Trump's shakeup was entirely positive, thanks to his appointment of John Kelly, the secretary of the Department of Homeland Security and retired Marine Corps general, to replace Priebus as chief of staff. "He will do a spectacular job, I have no doubt," Trump vowed. "What he's done in terms of Homeland Security is record-shattering." For once, Republicans agreed.
Trump loves generals and turns to them whenever he's in trouble. Last September, when the pressure to renounce his "birther" attack on President Barack Obama became untenable, Trump held a bizarre press conference at the Trump International Hotel in Washington, surrounding himself with generals. They offered glowing testimonials for 30 minutes, after which Trump renounced the birther charge in nine words ("President Obama was born in the United States. Period.") and departed. As one White House official explained, Trump admires that generals have valor and are universally respected. He also understands, with the failure of the Senate health-care bill, that his legislative agenda is in real danger.
So turning to Kelly not only replaces a weak chief of staff with a strong one, but also imbues Trump's White House with a sheen of can-do military competence to carry out what most Republicans (and many Democrats) have been longing for throughout his tumultuous tenure: a reset.
"That Kelly's been in the White House [through his DHS job] is a real plus for him," says Thomas "Mack" McLarty, Bill Clinton's first chief of staff, who was pushed out after 18 months for failing to impose discipline on a disordered White House. "That familiarity gives him a standing. Trump clearly has respect for the military, and Kelly is a serious, experienced person of depth, which is what this White House badly needs. You've got to get stability, but you also need to get results—just look outward at what's coming."
Indeed, that's the real reason for the relief surrounding Kelly's ascension. Lawmakers will soon depart for their August recess, and the House of Representatives is only scheduled to be in legislative session for 12 days in September. Along with pursuing its goal to rewrite the tax code by this fall, the White House must oversee the passage of a $700 billion bill to fund the Pentagon, reauthorize the Federal Aviation and Food and Drug administrations (or risk the latter partially shutting down), keep the government from shutting down when funding expires at the end of September—and, most important, raise the debt ceiling. If the White House can't manage the latter and the U.S. defaults on its debt—Republicans are currently divided about how to proceed—the result won't just further the collapse of the GOP's legislative agenda, it could also shake the foundations of the global economy.
Aware of these stakes, Kelly quickly reached out to Democratic congressional leaders to smooth over what has been a rocky relationship with the administration, a move greeted as a sign that discipline and normalcy might soon replace chaos. But the critical relationship is the one with Senate Majority Leader Mitch McConnell, who fell a single vote shy of pushing through Trump's unpopular health-care bill. Whatever plans Kelly had in mind to strengthen that relationship were overshadowed by the one man the new chief of staff can't discipline or fire: his boss.
Stung by his loss on health care, Trump took to Twitter to lambaste McConnell and try to pressure Senate Republicans to eliminate the filibuster, which would allow for easier passage of legislation—though it wouldn't have mattered for the Senate health-care bill, which mustered only 49 votes.
Trump tweeted: "Republican Senate must get rid of 60 vote NOW! It is killing the R Party, allows 8 Dems to control country. 200 Bills sit in Senate. A JOKE!"
And then, he added: "The very outdated filibuster rule must go. Budget reconciliation is killing R's in Senate. Mitch M, go to 51 Votes NOW and WIN. IT'S TIME!"
Trump's attacks on the Senate leader, whose performance will be vital over the next 60 days, were a problem Kelly couldn't contain. They're also a sign that even his swift firing of Scaramucci and his imposition of a more traditional White House management structure can only go so far in improving Republicans' ability to govern effectively.
"The attacks Trump launches on Twitter are categorically not helpful," former Republican Senator Rick Santorum of Pennsylvania says with exasperation. "The best you can say is that maybe the fact that he does it so often lessens the blow. If this was out of character, it would be really damaging."
One solace among anxious Republican legislators is that there appears to be an increasing willingness to challenge Trump and, when necessary, work around him. On Aug. 1, Republican Senator Jeff Flake of Arizona published Conscience of a Conservative, a brutally critical book that's unsparing in its analysis of the president. ("If this was our Faustian bargain," Flake writes of the GOP's embrace of Trump, "then it was not worth it.") In the Senate, a group of Republicans led by Tennessee's Lamar Alexander is ignoring Trump's threats to force the collapse of the Affordable Care Act by withholding payments to insurers. Instead, they want to work to prop up struggling insurance markets.
They're further emboldened by Trump's growing unpopularity. An Aug. 2 poll from Quinnipiac University found that only 33 percent of voters approve of the president's performance—a record low for him—while 61 percent disapprove of it. "It's hard to pick what is the most alarming number in the troubling trail of new lows for President Donald Trump," said Tim Malloy, the assistant director of the Quinnipiac poll.
Ultimately, Trump's decision to bring in Kelly can yield dividends only if the president is willing to reset his own approach to governing. So far, judging from his Twitter feed, he appears disinclined to do so.
"Every president gets frustrated with the legislative process," says Josh Holmes, the president of Cavalry LLC, a Washington public-affairs firm, and a former chief of staff for McConnell. "The difference with this president is that the American people have access to his inner monologue, his frustrations, because he puts all that out on Twitter for the whole world to see."
As voters and legislators in his own party sour on him, Trump isn't likely to suffer the humiliation in silence. But ill-timed outbursts will only make the difficult path ahead harder for Republicans to navigate. While Trump is said to harbor deep admiration for his new chief, it's not certain that Kelly will be able to keep him in line. A few hours after Kelly fired Scaramucci, Trump tweeted: "A great day at the White House!" It wasn't, but it's still possible that Kelly can turn things around. And if he can't, and things go south, he'll at least know how to call in the generals when it's time for Trump to explain what went wrong.
Before it's here, it's on the Bloomberg Terminal.
LEARN MORE