Toyota, Mazda to Spend $1.6 Billion on Joint U.S. Auto Plant
By and
Trump cheers first new assembly factory since taking office

Move will allow Toyota to boost output of RAV4, Tacoma models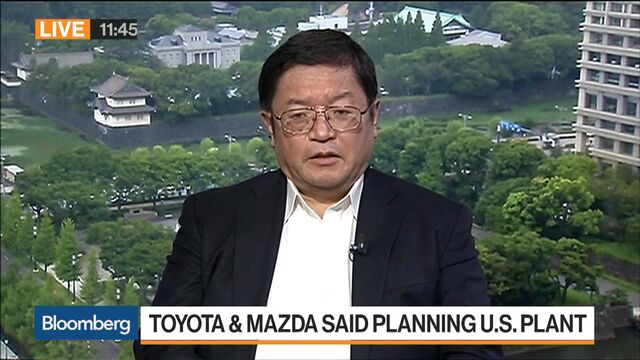 Toyota Motor Corp. and Mazda Motor Corp. agreed to buy stakes in each other and jointly build a $1.6 billion U.S. factory, the auto industry's first new assembly plant to be announced under President Donald Trump.
Toyota will acquire about 5 percent of Mazda, which will hold a 0.25 percent stake in the bigger automaker, according to a statement. The two plan to start producing Corolla compact cars and Mazda crossovers at a shared factory in 2021, creating as many as 4,000 jobs.
Mazda lacks any U.S. factories, which exposes one of Japan's smallest carmakers to both trade and currency risk. President Donald Trump threatened to tax auto imports early in his presidency and specifically attacked Toyota's plan to open a Corolla plant in Mexico. Shifting production of those cars out of a plant in Canada is going to enable Toyota to boost output of RAV4 crossovers. American consumers are buying that model in record numbers, while Mazda also is seeing booming demand for its entry in that segment, the CX-5.
Trump tweeted his praise of the Toyota and Mazda factory Friday, calling it "a great investment in American manufacturing." Toyota will still move forward with constructing a factory in Guanajuato, Mexico, though the facility will produce the Tacoma mid-size pickup instead of the Corolla as soon as 2019.
Fast Fix
"If you talk to our dealers and our customers, what everyone wants more of is more crossover utility vehicles -- and those will be built in Canada -- and more pickup trucks," Jim Lentz, Toyota's chief executive officer for North America, said by phone. "This is the fastest way for me to get more pickup truck production to my dealers."
Trump's pressure to build more vehicles in the U.S. may have affected the timing of Mazda's decision to start manufacturing cars in the U.S., as well as Toyota's decision to boost its presence, said John Shook, chief executive of the Lean Enterprise Institute in Cambridge, Massachusetts. But their close relationship has been in development for many years, he said.
"Mazda has been studying the Toyota Production System, with direct help from Toyota, since the 1970s," said Shook, a former Toyota engineer. "So this is an easy marriage for both parties."
EV Work
The deepening ties between Toyota and Mazda also are driven in part by the enormous costs automakers are facing to develop connected, self-driving and battery-powered vehicles. The two companies will work together to develop electric vehicle technology.
Read more: Toyota's game plan features robots, M&A, self-driving cars
Toyota has sought to share the costs of developing new technologies -- and spread the expense of building traditional vehicles -- with a growing set of its Japanese peers in recent years. The company solidified a partnership with Suzuki Motor Corp. in February and already sources compact cars from Mazda's lone North American assembly plant in Mexico. Until last year, Subaru Corp. built the Camry for Toyota at a factory in Indiana.
"In Japan, there's a great tradition of Toyota being a 'big brother' to other smaller manufacturers," said Eric Noble, founder of The Carlab, an automotive consultancy in Orange, California. Because of its strong dependence on North American market, Mazda absolutely needs to expand its manufacturing footprint here."
— With assistance by Kevin Buckland
Before it's here, it's on the Bloomberg Terminal.
LEARN MORE