S&P 500 Fights Back From Another Sucker Punch on Mueller Report
By and
Index tumbles five points after report on Russia probe

It's the latest mini-selloff spurred by Washington headlines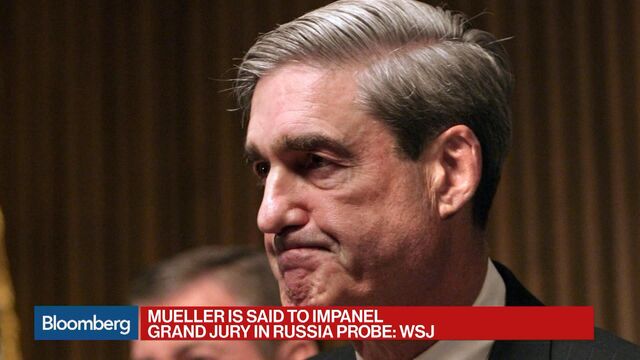 Start your day with what's moving markets in Asia. Sign up here to receive our newsletter.
Months of boredom broken up by moments of terror. And then quickly back to the boredom.
That's how it's been for U.S. stocks lately, where vast stretches of tranquility are occasionally interrupted by sudden bouts of selling on headlines trumpeting entanglements for President Donald Trump.

It happened again during the last 30 minutes of trading Thursday, when the S&P 500 Index surrendered a quick five points after the Wall Street Journal reported special counsel Robert Mueller was said to have impaneled a grand jury in the Russia probe. More than half the swoon was erased by the close.
A similar frenzy occurred July 20, when Bloomberg News said Mueller was examining a broad range of financial transactions involving Trump's businesses. The S&P 500 tanked 8 points then closed little changed. On July 11, after the release of emails by Donald Trump Jr. that said the Russian government backed his father's presidential campaign, the market needed about half an hour to claw back a 25-point dip.
Volume shows a similar pattern from drama to drama. After spending the entire day in the doldrums, about 10.2 million shares traded hands on the SPDR S&P 500 ETF, just above the 30-day average for the final half-hour of trading.
The message of professional investors: in a market where the CBOE Volatility Index has consistently hovered just above 10, get used to it. Both the drops and the recoveries.
Robert Parks, managing director of equity derivatives at RJ O'Brien and Associates: "The market's a little long in the tooth. People want a reason to sell it but every time they trade on headlines they get their butts handed to them because the market ends up reversing."
Michael Antonelli, an institutional equity sales trader and managing director at Robert W. Baird & Co: "We've seen this play out before. Random Mueller headline that gets forgotten within 10-15 minutes."
Matt Maley, Miller Tabak & Co. equity strategist: "The markets can shake off these kind of events until we get a critical mass. This Mueller probe will take the Congress's time and attention and will distract it from getting things done, meaning that the tax reform can be pushed even further away. This is not a welcoming idea for the markets."
Before it's here, it's on the Bloomberg Terminal.
LEARN MORE