PDVSA Asks Bondholders to Waive Financial Reporting Requirements
By and
Seeks to extend deadline for year-end report to Aug. 11

Bonds mentioned in letter are backed by stake in Citgo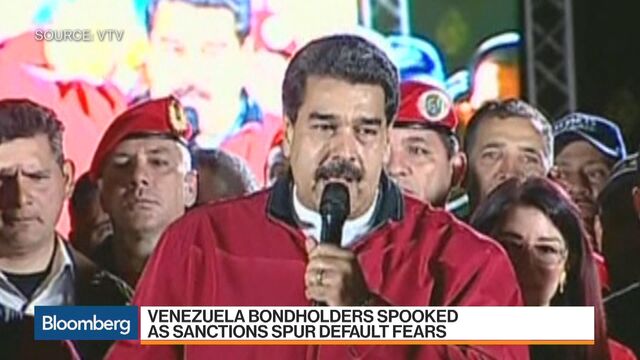 Venezuela's state oil company, ensnared in the political crisis gripping the country, is asking bond investors for a temporary waiver from financial reporting requirements because it can't complete the documents on time.
Petroleos de Venezuela asked trustee Mitsubishi UFJ Financial Group Inc. for an extension to Aug. 11, at which point it expects to make the documents available, according to a letter dated July 31 that the bank sent to holders of notes due in 2020. PDVSA was obligated under the indenture to provide audited financial reports for last year by the end of June, and failing to produce them could allow bondholders to declare the company in default.
"Given the complexity of PDVSA's consolidated operations, the completion of the end of the year Financial Statements of PDVSA has taken significantly longer than in previous years," PDVSA wrote to the trustee in a letter dated July 21 that the bank distributed in its missive.
A representative for PDVSA declined to comment.
Venezuela and its state oil company are under intense scrutiny from investors as U.S. sanctions against key government officials and a power grab by President Nicolas Maduro threaten to disrupt financial flows. Prices for government and PDVSA bonds have tumbled in recent weeks amid concerns that Maduro's actions will trigger more severe measures against the oil-producing nation that may choke off its ability to pay debt.
In order to provide the waiver, the trustee would need the permission of holders with at least 50 percent of the principal amount of bonds outstanding. If no permission is given, holders of 25 percent of the outstanding debt can issue a notice of default, which would trigger an event of default 60 days later if the situation hasn't been remedied.
It is unclear if a similar request has been made to holders of other PDVSA bonds. The company's 2020 notes are backed by a first-priority lien on a 50.1 percent stake in Citgo Holding Inc., PDVSA's U.S. refining arm.
The notes rose 2.7 cents on the dollar to 67.25 at 12:17 p.m. in New York. The upfront cost to protect PDVSA debt for one year with credit-default swaps was 52 percent on Thursday, implying a 73 percent probability of non-payment, according to CMA intraday data.
Before it's here, it's on the Bloomberg Terminal.
LEARN MORE