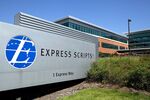 Biopharma stocks have recovered from the drug-pricing terror that marked the beginning stages of the Trump administration. 
But as the flashier Washington price war, with congressional hearings and threats of legislation, stalls out, a quieter but more authentic battle continued this week, involving secret negotiations and closely scrutinized PDFs.  
The country's biggest pharmacy benefit managers (PBMs), which negotiate drug discounts on behalf of insurers and employers, updated their growing lists of medicines they won't cover due to pricing or the availability of cheaper alternatives. Lobbying may work in D.C., but discounts work more often with PBMs. 

The lists of medicines PBMs cover and don't are known as drug formularies. If a patient wants a drug that's excluded from a formulary, they may pay more for it out of pocket than for a preferred drug. Because these firms represent huge insurance companies and other important clients, drugmakers offer large discounts to stay on the "preferred" side of the list. 
In the pharmacy benefit ecosystem, CVS Health Corp. and Express Scripts Holding Co. take up most of the oxygen. UnitedHealth Group Inc. is a fairly distant third, and a bunch of much smaller players are way behind them. These large firms are criticized for their opacity and accused of helping to actually inflate drug prices. But in the absence of any other sort of price control, they're what we have. Whether or not PBMs entirely benefit the public, these firms definitely take a big chunk out of what pharma could otherwise earn.  

Individual companies and insurers can have their own drug lists. But the main lists from CVS and Express Scripts are the most widely adopted and can offer the biggest discounts.
Express Scripts claims its main formulary saved clients $7.4 billion over the past five years. CVS expects its own drug exclusion strategy to deliver $13.4 billion in cumulative savings to clients from 2012 through 2018. These are company-provided numbers and should be taken with fistfuls of salt. And these companies profit from the savings they deliver. But there's no denying they've had an impact. 
Express Scripts this week dramatically increased the number of medicines it will exclude in 2018, from 85 to 159. It's a notably aggressive move for the company -- it actually reduced its exclusions last year -- and vaults it ahead of CVS in terms of the number of medicines excluded. Frequent target of drug-pricing ire Valeant Pharmaceuticals International Inc. has five different drugs excluded on the Express Scripts list. 
CVS's list, revealed Tuesday, stayed flat by excluding 17 new medicines and adding another 17 back. But that doesn't mean the company has gotten easier on drug prices. 

Manufacturers offer substantial rebates to avoid being excluded from these lists. If they don't, they risk a flip-flop along the lines of what Eli Lilly & Co. suffered this year. Johnson & Johnson's diabetes medicine Invokana had previously been excluded from CVS's formulary in favor of Eli Lilly's Jardiance. This year, their positions are flipped -- likely due to a negotiated price cut for the J&J medicine.
The threat of exclusion gives PBMs negotiating power in other ways. CVS announced a new program this week in which it will cap costs or demand refunds if a drug doesn't perform up to certain standards in a patient population. The pilot program will test these strategies in certain cancers, for drugs used to control obesity, and in a respiratory condition. 
There's still more bad news to come for drugmakers. Both Express Scripts and CVS will provide formulary updates (and possible additional drug exclusions) in mid-September on two of the biggest disease categories: autoimmune blockbusters such as Humira and Remicade, and medicines for Hepatitis C. In the latter category, PBMs have already wrung big discounts out of drugmakers, and competing medicines will be available soon. 
Though drug pricing may have faded from the headlines, the people paying for medicine haven't forgotten about it. Investors getting hyped up about pharma again shouldn't, either.
Before it's here, it's on the Bloomberg Terminal.
LEARN MORE