Loeb Says Short Bets Are Paying Off With Stock Valuations 'Stretched'
By and
Manager is betting against retailers, energy companies

Loeb says companies may be playing 'accounting games'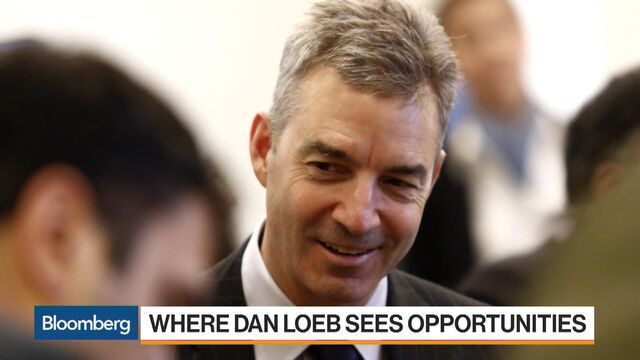 Hedge fund manager Dan Loeb says he's seeing more opportunities to bet against stocks as the market soars, particularly in industries undergoing secular change.
He is wagering against retailers, consumer brands, energy-related companies and some firms "we think have very low quality earnings that might be playing accounting games," Loeb said Thursday on an earnings conference call for Third Point Reinsurance Ltd., the Bermuda-based company where he oversees investments.
Money managers have struggled over the past few years to make money on short bets as the markets have climbed. In a July 11 note, Credit Suisse Group AG analyst Mark Connors wrote that "poisonous" U.S. stock shorts were eating away at managers' profits. The bank's index tracking the performance of the most popular shorts rose 17 percent in the first half, according to the report.
Even though the S&P 500 Index has returned 12 percent this year, investors are bracing for more retail restructurings as the industry has been pressured from online rivals such as Amazon.com Inc. Oil prices have sunk this year, leading to a 12 percent plunge in the Standard and Poor's 500 Energy Index of 32 companies.
"While valuations are getting a little more stretched we're still finding a lot of really good things to do," Loeb said. The sometimes activist investor has been pushing for changes at companies including Nestle SA and Baxter International Inc. The consumer and health care industries have been the most profitable, he said.
Loeb has been scaling back on bets in the bond market. Earlier this year he highlighted declining prospects for structured and sovereign credit, and said Thursday that his corporate debt portfolio, including distressed holdings, declined for the quarter.
"We are patiently waiting for the next cycle and have reduced exposure across each vertical," Loeb said. "We will be carefully watching central bank activity as we approach year end."
Loeb's improving investment results have helped the reinsurer's stock surge 26 percent this year through Wednesday, and advanced another 2.9 percent at 9:42 a.m. in New York. The shares had declined in three straight years through 2016.
Third Point Re's second-quarter net income jumped 40 percent to $74.6 million, the company said late Wednesday in a statement. Earnings per share were 71 cents, beating by 2 cents the average estimate in a Bloomberg survey of analysts.
While Loeb's investments thrived in the period, the company still struggled to post underwriting gains on insurance contracts. Third Point Re had a combined ratio of 107 in the three months ended June 30, meaning it had 107 cents of expenses and claims costs for every premium dollar. That was an improvement from 119.2 a year earlier.
Before it's here, it's on the Bloomberg Terminal.
LEARN MORE