Abe Praises Potential Rival Kishida After Cabinet Shake-Up
By and
Former foreign minister takes party post in reshuffle

Finance minister, chief cabinet secretary stay in positions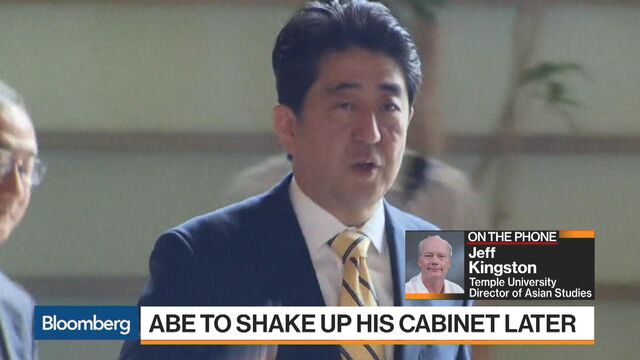 Japanese Prime Minister Shinzo Abe on Thursday praised the man who might one day take his job.
Abe appointed Fumio Kishida as chairman of his Liberal Democratic Party's Policy Research Council, part of a wider reshuffle of his ministers and party officials after a slump in popularity and a humiliating local election defeat. The move frees up Kishida to challenge Abe in an election for party president expected in September next year.
Abe's struggles have increased tensions between the LDP's factions, one of which is headed by Kishida. Kyodo had reported last month that Kishida asked to leave the cabinet.
"Mr Kishida achieved great things as foreign minister," Abe told reporters later. "He is someone who will absolutely play a central role in the future of Japan, so now I have expectations of him taking responsibility for the whole range of party policy."
Allegations of cronyism have undermined public trust in Abe, while a series of scandals and gaffes have focused criticism on his ministers. His falling support does not necessarily put his job in immediate danger, though a recent poll indicated that voters no longer see him as the most appropriate person to lead the government.
"Various problems were pointed out in the last session of parliament, which sparked a great deal of suspicion from the people," Abe told reporters. "I want to reflect deeply on that and apologize to the people," he added, bowing at length in front of the cameras.
Abe's woes come as his government faces several offshore problems: North Korea has tested two intercontinental ballistic missiles within a matter of weeks, despite international sanctions against the regime, and Japan must navigate the economic protectionism of U.S. President Donald Trump's administration.
Until recently thought to be guaranteed a third straight term as party leader, Abe suddenly will have to fight off rivals to stay in power. He vowed to focus on growing the economy in a bid to restore confidence in his leadership.
Speaking to reporters after the change was announced, Kishida on Thursday focused on policy issues, including how to bolster the economy.
Having served as Abe's foreign minister since 2012, Kishida is not known for expertise on the economy. Nevertheless, with the LDP divided over how to tackle Japan's ballooning debt and the best path for monetary policy, a leadership battle would raise doubts among investors.
While Japan's economy is heading for a sixth-straight quarter of growth, and unemployment is at its lowest levels since the 1990s, inflation has stalled at 0.4 percent -- far from the central bank's two percent target.
Read more: Why Japan voters are turning on Abe
Kishida is seen as less hawkish than Abe on defense, telling reporters on Thursday that his caution on changing the pacifist Article 9 of the constitution had not changed. Abe announced in May he wanted to revise the U.S.-drafted document to make clear the legitimacy of the armed forces by 2020, but said on Thursday that this should not be done on a fixed schedule.
Finance Minister Taro Aso and Chief Cabinet Secretary Yoshihide Suga kept their positions, Suga announced Thursday. Itsunori Onodera returned to the role of defense minister after Abe protege Tomomi Inada resigned from the post last week over a cover up involving military documents.
'Ears Hurt'
Two Abe critics got jobs: Seiko Noda became internal affairs minister while Taro Kono, an advocate of immigration to ease Japan's demographic crisis, was appointed foreign minister. Despite Abe's policy of putting women in 30 percent of management positions, the number of women in the cabinet fell to two from three out of 19 positions.
"She tells me things even if they make my ears hurt," Abe said of Noda, who will also serve as minister in charge of the promotion of women. He added that he had tried to represent a range of views within the new cabinet.
A general election doesn't need to be held until the end of 2018, but some analysts have speculated that Abe will opt to call a poll this year to seek a fresh mandate. While his popularity has fallen, the opposition Democratic Party is also struggling, as it casts about for a new leader to boost its support beyond single figures.
With a party founded by Tokyo Governor Yuriko Koike yet to make significant inroads on the national stage, the LDP would face minimal opposition. Koike ousted the LDP from power in the Tokyo assembly in an election last month.
Abe's reshuffle may not help him win over voters, according to Koichi Nakano, a professor of political science at Sophia University in Tokyo.
"He'll be trying to regain his authority by turning a new page and getting rid of the problematic ministers," Nakano said. "But he is also the source of the problem in many ways and he can't get rid of himself."
The following are some of the major appointments in the new cabinet:
| | |
| --- | --- |
| Finance Minister | Taro Aso |
| Chief Cabinet Secretary | Yoshihide Suga |
| Foreign Minister | Taro Kono |
| Defense Minister | Itsunori Onodera |
| Trade Minister | Hiroshige Seko |
| Economy Minister | Toshimitsu Motegi |
| Internal Affairs Minister | Seiko Noda |
Before it's here, it's on the Bloomberg Terminal.
LEARN MORE